LIZ MCQUILKIN

Double launch: Jules Witek's Photographic Exhibition—and AT FIRST GLANCE, poetry and images by Karen Knight and Jules Witek

Ladies and Gentlemen, this is a double launch but rest easy, I won't talk for twice the time of a standard launch speech.

Let me start with the book, teasingly entitled AT FIRST GLANCE. It is a synergy: of poems by Karen Knight and photography by her husband, Jules Witek.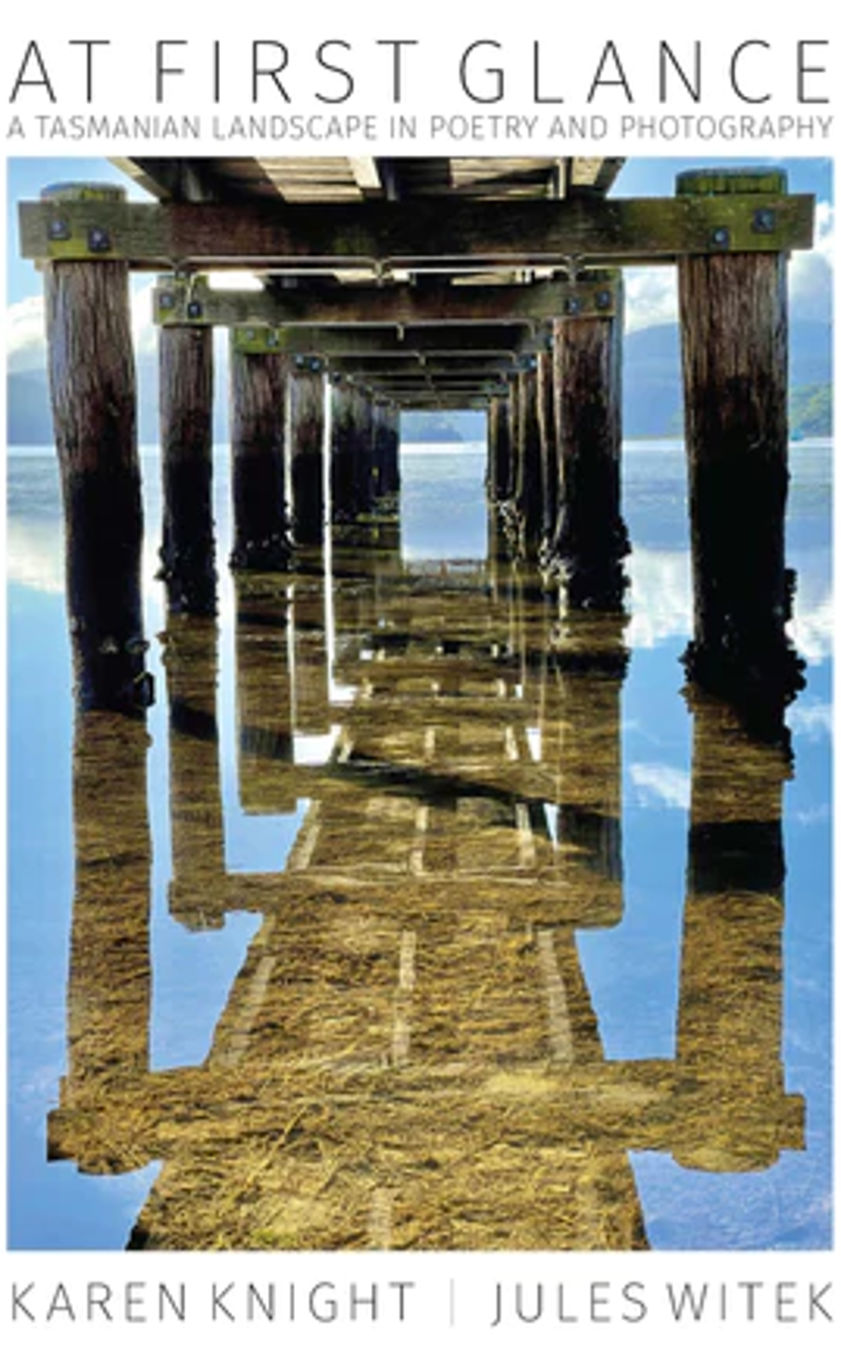 Forty South, as publisher, has done a magnificent job in producing this book with its stunning cover and artistic layout of poems and photographs. But of course the book is much more.

Karen is an award-winning and widely published poet, admired for her originality of ideas, succinctness and subtlety. She knows instinctively how to engage her reading audience and her light touch and humour are never more evident than in this collection.

Until recently, Jules was better known as a musician. When Covid put a stop to much of his music-making, he turned his attention to photography, spurred on by his bushwalking friends who clearly saw his talent. And there's much to photograph on the Tasman Peninsula and along the east coast.

For Karen, their move five years ago from suburban Hobart to the peninsula was her catalyst for writing these poems. Instead of looking out on the concrete walls of close neighbours, she could now enjoy views of lush green fields grazed by contented cattle and watch an abundance of birds visiting their 1910 cottage by Saltwater River – not a neighbour in sight.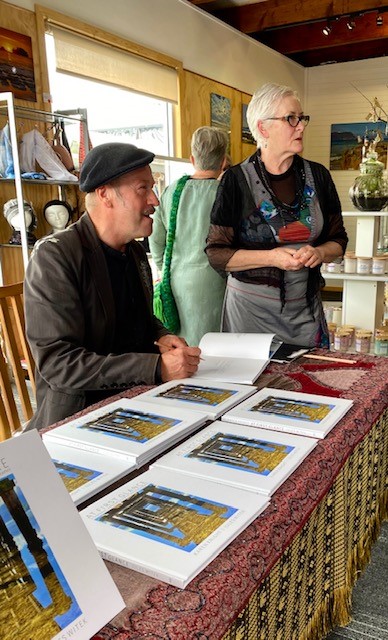 Their move was consolidated by rescuing unwanted chooks and elderly dogs, establishing a vegetable garden, and building friendships within the local community. Karen posted photos and letters to her grandchildren, describing the animals and birds in their new life, and some of those letters turned into the poems you can read in this book.

There's beauty here on every page, and a strong sense of belonging. The book begins with Jules' wonderful photograph of a rainbow lighting up their cottage; and Karen declaring in the first line of the first poem: 'There is so much happiness here'. Her topics are wide-ranging, her lyricism is masterly, and each poem has its element of surprise.

Jules sought scenes that complemented Karen's poems although occasionally his pictures came first. What I find so rewarding about this book is the way these two artists find common ground, even as they use a different medium to express themselves. Theirs is truly a marriage of like minds, a harmony that comes from their love of nature in its many guises, and their ability to communicate that love in words or pictures.

I have much pleasure in launching AT FIRST GLANCE, and asking Karen to read some of her poems.


Now to the photographic exhibition. I should mention that the book is not a catalogue of this exhibition. There is very little overlap between the photographs in the book and the art work on the walls around us.

For me, there is a spiritual element in this exhibition. I think of the Japanese philosophy of wabi sabi: of finding beauty in imperfection. Perhaps Jules is following that philosophy when he seeks beauty in unlikely places and captures it – in the imperfection of a wounded tree, for example, or a broken window frame at the Convict Coal Mines. He takes nothing for granted.

His photos show us another aspect of wabi sabi: the ephemeral nature of things. One of my favourite pictures is the foot imprint in sand. Jules' picture reminds us of impermanence in life; the sea will wash it away or the wind will sweep it beyond recognition. This idea of transience is also present in the beautiful picture of fog lifting from Saltwater River: it's an unforgettable moment. Another favourite is the one with a shell in the foreground: just an ordinary sea shell but the ordinary is the focal point – the hero as it were – time honoured in its slow disintegration against the backdrop of its natural environment.

Jules' photography has emotional warmth. He cares deeply about his art and goes to great lengths to capture, for example, perfect symmetry in the reflections of sky and water in his seascapes; and (like a farmer) he has an instinctive love of the land.

The advent of Covid set him on a new path of discovery through photography; and I can't help wondering if he would have been so absorbed or got the same intense satisfaction from his percussion playing as he does from this very different art form. I must ask him.

Meanwhile it's a privilege to launch this exhibition and I'll finish by asking Jules to talk about particular approaches to his art and provide you with some technical details of his photography.


---
LINKS: Conversation—Jules Witek Karen Knight Liz McQuilkin