CONVERSATION
Jules Witek—on the publication of 'At First Glance', (Forty South)
'At First Glance' marries the writing of celebrated poet Karen Knight with the photographic inventiveness of Jules Witek. The result is a captivating spectacle of words and images.

Jules discusses the couple's forthcoming publication, along with plans for its launch.

Ralph Wessman


Jules, when did you first become serious about photography? Is it an interest that's mostly played second fiddle—forgive the pun—to your music?
When my music career dried up due to Covid rules, I took up bushwalking with a local club to escape the media doom and gloom messages and to clear my head of the horrors I was seeing and hearing. I started sharing my images on social media as there was obviously a hunger for the beauty of nature from people who were in lockdown areas around the world. The response took me by surprise to the point where I began to share my images each day. Urged on by my walking group members, I produced a deluxe calendar depicting photos of the Tasman & Forestier Peninsulas, which sold out very quickly and then I started producing reproduction prints to order and photo cards for local markets.
I'm guessing landscape is your preferred form of photography, is that the case?
There are so many beautiful places to photograph on the Tasman Peninsula, hence my preference for landscape shots. I do add some man-made structures like bridges and jetties to my compositions, but they are mostly used as a prop to highlight the beauty of nature that surrounds it.
Are there other photographers—local practitioners perhaps—whose work has been influential?
I gain more inspiration from painters rather than photographers e.g., Turner, Dali and Magritte. That's not to say that I don't appreciate the skill and beauty of Dombrovskis, Truchanas and other photographers' work. I recently did a night and astro photography workshop with renowned photographer, Paul Hoelen and that was a big highlight for me.
You mention Peter Dombrovskis.... Do environmental issues—I'm thinking of how they feature in the work of Dombrovskis, Matthew Newton, Rob Blakers and others—have a part to play within your artistic framework?
I do have one very large print which I've called 'Carbon' that speaks of my concern about the impact on the environment and disappearing wilderness areas, in particular, our waterways due to fish farming and deep-sea trawling. 'Carbon' will be on display at the Aquila Gallery. I deliberately made this print from sustainable wood and canvas materials to make a point.
I also believe we have no business in old growth forests and would do much better utilising hemp as a sustainable substitute for many products that currently use wood fibre.
Carbon
What sort of photographic equipment do you use? And continuing from there, what software do you use to edit your images?
I mainly use an iPhone 12. It's the Pro Max model. I have been starting to use Adobe Lightroom. Sometimes I use a Nikon D7000 DSLR with a telephoto 50x200mm lens for close ups. I always have a tripod in my backpack.
Have you held exhibitions of your work? I recall Giles (Hugo) suggesting it wasn't always easy for artists to source local galleries where they might exhibit their work. He speaks too of the inhibiting costs associated with framing.
I have been most fortunate in the area I live in as it's a thriving and supportive community towards the arts. I have joined the Pear Shed Gallery Co-operative at White Beach and I had my first solo exhibition there last November which was a sellout. Co-op galleries do not charge as much in commissions, but I do take a day off in the month to work in the Gallery shop which is great, because it gives one a chance to further promote one's own work.
I was also commissioned to photograph the Koonya Garlic Festival earlier this year. I had three pieces in the recent Rotary Art Show held at the Casino. I try to steer away from framing as my production team in Germany supply me with sufficient backing to hang my art pieces. If a client particularly wants a piece framed, I get it done at Full Gamut in Hobart, but it really marks up the cost of the work, as framing can be very expensive when it's done well.
There's nothing like makng an income from work you've a passion for, are you hopeful your photography develops into a reliably profitable business?
Yes. More than I care to admit!
When we moved to the Tasman Peninsula 5 years ago, Karen started taking notes and pics each day mainly to send in letter form to our grandchildren. Then when I joined a local walking group and started taking photos, we both thought it a good idea to turn Karen's notes into poems and for me to get busy with my camera.
How does someone go about getting their photography displayed in the variety of places you've recently managed to place your own work? I'm mindful of a recent Facebook post mentioning your images having served as background to evening news and weather presentations on local television stations, over consecutive days…. A simple case of hard work and perseverance?
I've learnt to self promote, self promote using social media on a daily basis. It is hard work and time consuming, but it pays off. I am now on first name basis with Channel 6, ABC Hobart, Sunday Tasmanian and various local newspapers such as the Tasman Gazette and Sorrel Times as well as the RACT, even Gardening Australia.
A joint presentation with Karen seems a natural progression from the fusion of her poetry and your music, which is something you've been performing together over many years (I'm reminded of the Hobart performances of poets eric beach and May Carroll alongside musicians Greg Kingston and Michael Fortescue—some twenty, twenty-five years ago?) But am I right in understanding this is the first time you've teamed up to present your images and poetry together?
Yes, this is the first collaborative poetry and photography project that Karen and I have completed and turned into a small coffee table book.
With live music venues opening up once more, have you given thought to performing again?
No, I can't see me taking on any more music gigs now or pursuing my music career any further—but who knows what may happen in the future.... I still have the drum kits set up in my outside studio along with a number of percussion instruments.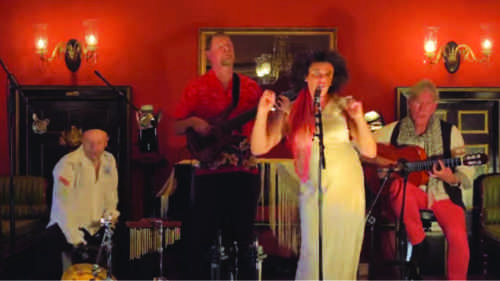 Jules, with Alma da Vida in 2014, performing the song 'Ivory Coast' with vocalist Georgina Richmond—Epsom House, Pontville, Tasmania
Have either of you any projects in mind once you've put this one to bed?
We are both going to slow down after this, as we want to spend more time at home in the veggie garden and with our rescued birds and old rescue RSPCA dogs (one at a time).
Karen always says after she has completed a project that she won't be doing anymore, that was her swansong, but she usually does get involved after a rest. She enjoys collaborations with artists of different genres. But she is quite emphatic this time, that she wants to spend more time reading books rather than writing.
I may bring out a book of my own photography in the future on a print on demand basis.
Is there any one image in this book that perhaps stands out for you in some way? And do you have a favourite composite piece where you feel you've complemented each other's work particularly well?
The front cover image stands out for me. It's a particular favourite of mine that I called 'Jetty Zen'. I took this pic from the jetty at Little Possum Beach, Carnarvon Bay, Port Arthur, looking out at the Isle of the Dead. For me the image looks like a floating oriental pavilion in the sky or a 'Highway to the Isle of the Dead', which was my original title. There is more than meets the eye with this one and Forty South Publishing encouraged us to use this for the front cover as they felt it was a real drawcard. It also pretty much well sums up the title of our book 'At First Glance' as there are many visual aspects and interpretations to this photo.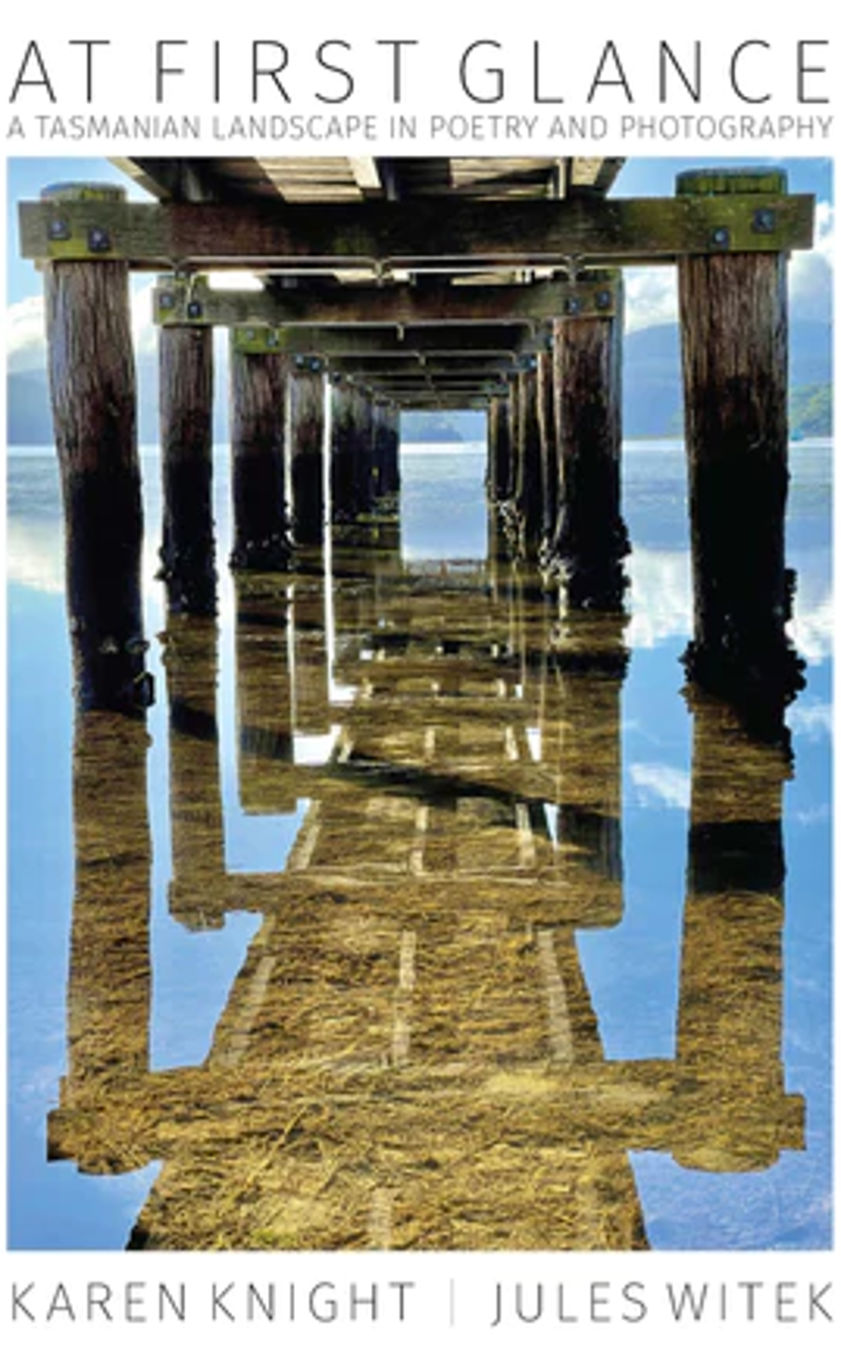 Our favourite composite piece is for the poem 'The Day we Gave Marigolds to the Sea' (Sloping Main Beach). We actually had to re-enact the photo at the Triabunna wharf, as we knew there were always a lot of seagulls in the area due to a well known fish and chip van close by. The seagulls on the Tasman Peninsula were not as friendly and just didn't want to play along. So while Karen was throwing chips into the water to firstly attract the gulls, I was setting myself up in a position for close ups, then once the gulls arrived, the marigolds were thrown in to make it look as if the birds were actually going for the flowers rather than the chips. It took several shots to get the right atmosphere and of course the chips had to be photo-shopped out afterwards. It was a lot of fun and a good excuse to have a feed of fish and chips.

The Day We Gave Marigolds to the Sea
(Sloping Main Beach)

They were tiny inflatable boats
rocking to the rhythm
of wave upon wave –
orange petals opening to the sun.

They were unsinkable little lilos
before gulls bore down
thinking the flowers
strange fish
at play with the light.
To be honest every new picture is a favourite for a time until another one comes and takes its place. To that end I feel driven to keep searching for the ultimate photo that gives me a spiritual connection to the land.
I also feel that every image I choose to present says something that may inspire awe, wonder or a feeling of peace that I feel at the time. I hope that comes across when people view my work.
I've been chatting with Anne Collins about her forthcoming book Listening to the Deep Song that she's publishing with Daniela at Bright South, for which paper stock's a critical consideration. With paper quality paramount for you too, I'm curious ... have you visited your printer, examined the textures of their paper stock?
The Forty South Publishing team were amazing throughout the whole process of this book. We met with them and they showed us examples of paper which was very important to us as we wanted the book to be of the highest quality possible. We were able to see similar publications, feel the texture, thickness of the paper, etc. before making the final decision -which was Silk art paper 150gsm - the most expensive, but it looks, feels and smells superb. People know and recognise quality when they see it. In my experience, people are happy to buy artworks I offer, because they make great gifts for the special people in their lives, despite the cost.
Clawing Back the Sea
I imagine you're pretty excited about the launch, where there'll no doubt be poetry on offer—are there plans too for image projections on walls, etc?
Yes, we are both very excited that it has finally come to fruition.
The Aquila Gallery is a great venue for the combined launch of my solo art exhibition and our book. There will be around 30 pieces of my work, in various sizes, on display in the gallery, some of which already appear in the book. These will be on show until 23rd December. The mediums I have used are aluminium, glass acrylic and canvas. And there will be a couple of poems read by Karen after Liz McQuilkin does the combined launch.
We do plan to have projection of images on a screen at a U3A event at Taranna Community Hall on Wednesday 23rd November, the day after our book launch at Fullers Bookshop, Hobart on Tuesday 22nd November at 5.30pm where there will be an in-house conversation between myself, Karen and Rachel Edwards.
So, two or three events for anyone interested in attending.... What's the time, date and venue of the launch in Triabunna, and how much will someone be handing over for a copy of your book?
Aquila Art Lounge, 7 Vicary Street, Triabunna at 11am Saturday 12th November, 2022. It's a free event with wine and nibbles.
All the artwork will be up for sale and cost of the book in the bookshops, galleries and newsagents is $45.00. Private sales from us will be $40 plus postage. Part proceeds of each sale will be donated to RSPCA Tasmania.
---
About 'At First Glance'
A magician wordsmith at the height of her powers, Karen Knight is fearless in her image-making. – Anne Kellas

When I first encountered Jules Witek's photographs, I was immediately struck by their unique beauty, composition and tonal brilliance. – Giles Hugo
Take a journey through the physical and imaginative landscape of the stunning Tasman Peninsula with two of Tasmania's leading artists.

Karen Knight has been widely published and anthologised since the 1960s. The author of several poetry collections and chapbooks, she won the 2011 University of Tasmania Prize for her moving collection, Postcards from the Asylum. Jules Witek is a musician and photographer whose work has appeared in solo exhibitions at the Pear Shed Gallery, and in numerous publications, calendars and social media posts.

At First Glance is a joyous hymn to nature, in poetry and pictures, celebrating the people, places, animals and landscapes that make southern Tasmania so breath-takingly stunning and unique.
Metamorphosis
---
LINK &nbspLaunch—Photographic Exhibition, and AT FIRST GLANCE