ANNE KELLAS
---
Anne Kellas was born in South Africa, in Germiston in 1951 in what was then the Transvaal, now Gauteng and emigrated to Australia in 1986. Her earliest work appeared in 1968 but she began writing seriously in 1975 when she joined a group of writers associated with Lionel Abrahams who at one stage called themselves the Circle of Eight. Writing groups gathered around Lionel Abrahams included at various times the writers Anne Schuster, Sinclair Beilis, Basil du Toit, Giles Hugo, Debbie Aarons, Ivan Vladislavic, Shirley Pendlebury, Michael Gardiner, Francis Faller, Robert and Eva Royston, and others.

Anne Kellas's first book of poetry, Poems from Mt Moono, was published by Shirley Pendlebury's Hippogriffe Press in 1989. By this time Kellas and her husband, the journalist / photographer / writer Giles Hugo had already emigrated to Australia. In Tasmania she served for many years as poetry editor for the small magazine Famous Reporter and from circa 2003 was web content editor for Island (formerly Island magazine). Her second collection, Isolated States, received funding from Tasmania's arts funding body in 1993 and was later accepted for publication by Australian poet/publisher Tim Thorne. Anne's collection, The White Room Poems (Walleah Press) was published in 2016. Her latest book is Ways to Say Goodbye, (Liquid Amber Press, September 2023).

In 1995 Anne Kellas and Giles Hugo set up one of the first Australian online magazines, The Write Stuff. Among its other content, such as book reviews and interviews with writers, their web site documented the vivid poetry landscape of Tasmania, with an online Showcase of Tasmanian poetry that held vignettes of over 40 Tasmanian poets.

In 2004 Kellas established Roaring Forties Press, a small literary press which, though based in Tasmania, Australia, published the posthumous collection of poetry by Lionel Abrahams, Chaos Theory of the Heart, produced in conjunction with Jacana Media in Johannesburg. They also published the Australian short story-writer Geoffrey Dean's seventh collection, The Literary Lunch. Some of Kellas' poems have been set to music by Australian composer, singer and producer, Matthew Dewey (Isolated States, a song cycle based on the poetry of Anne Kellas).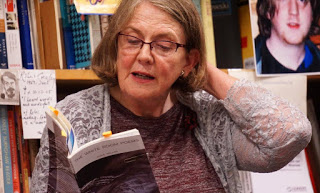 Anne Kellas, at the Melbourne launch of her collection, The White Room Poems
Photograph: Giles Hugo
REVIEW OF 'ISOLATED STATES'
Kevin Brophy, 'Famous Reporter 24'
LAUNCH OF
'THE WHITE ROOM POEMS'
SAMPLE POEM FROM 'THE WHITE ROOM POEMS'
Journey to my son 2006
I fly to you

oh so slowly
oh so slowly

and I search each cloud for your face.

I think I see you,
with your hair combed, neat, dressed in white,
looking slightly awake
slightly different in sleep
dressed in white as delicate as cloud
and your hands
folded
as I knew they would be
your long, slim fingers.

Quiet all the strings.

And I dressed all the clouds in your white.
And I dressed all the clouds with your face.
And I carried you with me as I flew to you.

But you were already there, in that faraway place
where the waves and the sea and the planes
and the clouds carry people to
when they go so far away.
More clouds,
more waves,
waves.
How is this so?
What can I make of this journey?
Will you know I saw you out at sea
on the waves of the world
as you dream
in the cloud of unbeing? How will you make that journey
home? How foreign are we now,
all apart,
me in the sky,
you in the heavens,
your brother on one continent
your father another
and your lover
journeying home
to grieve you.

We are fractions of ourselves
factored out into cloud

not seeing
not feeling
being cloud-light.

(Blue Giraffe # 6, 2007, pp. 15-16)


MORE POETRY BY ANNE KELLAS
Afternoon
All these things
Arriving by Elephant
Mazerati parrot
Radio 702-Land
Ice-Silent
Everything
Blue Oyster Tape
South
You hung out a curtain of flames



REVIEWS BY ANNE KELLAS
CHARLTON, James: Luminous Bodies
INTERVIEWS
LAUNCH SPEECHES
Anne Kellas' launch of Stuart Solman's In advance of our broken wings (Hobart — 3rd March 2011)

Sarah Day's launch of Anne Kellas' poetry collection The Netted Air (Hobart — 15th March 2018)
Kevin Brophy's introduction of Anne Kellas' poetry collection Ways to Say Goodbye (Liquid Amber Press, zoom poetry reading — 14th September 2023)

Jane Williams' launch of Anne Kellas' poetry collection Ways to Say Goodbye (Launceston — 7th October 2023)

LINKS TO OTHER WRITING