To and fro with Andrew Burke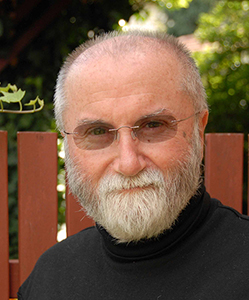 Andrew Burke is a contemporary Australian poet. Early in his working life, Burke pursued a career in advertising as a copywriter and Creative Director, switching to academia as a literature and creative writing lecturer in middle age. He has lectured in Australia and China, and read his poetry to audiences of all ages in the United Kingdom, Singapore, China, and throughout Australia. His poetry has been included in Western Australian and Australian anthologies, and he's been interviewed in print and online including at rob mclennan's blog where he was asked his views on the role of the writer. Burke's typically thoughtful response? "Well, too much writing in today's society is argumentative and not expository. From lawmakers to graffiti artists, they are trying to make their mark in a shallow, restrictive and biased way. On the creative side, there are writers who build and writers who dig. There are writers who write for money and others who write for ego. There are poets who sing like a bird from their nest, simply from natural impulse. Dreamers will save the planet, and poets and songwriters are the ones to inspire the scientists and community leaders to create that Utopia," he replied.

Andrew's most recent poetry collection is 'One Hour Seeds Another' (Walleah Press). He blogs at hi spirits.



I note that cricket and the country's fascination with the sport feature in a number of your poems. Australia's back into a summer sports mode and has just hosted India in a Test Cricket series here, a season that's begun tragically with the death of Australian opener Phillip Hughes. What, firstly, are your earliest and most enduring memories of the game, and what are your thoughts on the Hughes tragedy?
My favourite cricket memories are of Grade Cricket. My eldest brother, Ray, was captain of the Under 18s for Nedlands Cricket Club, soon to become Claremont-Nedlands CC. I got to meet Garth Mackenzie when he was a young bowler and some other players who went on to be stars at hockey. (WA was always a participating type of sports community. You didn't go to watch - you played.) Then there was a big gap in my cricket watching when I became a 'weekend beatnik' - no sport with that attitude! Eventually I went back to the WACA drawn by the fiery duo of Dennis Lillee and Jeff Thompson, it was a beautiful sight: Lillee with his long black mane at one end and Thommo pushing off the fence at the other! Wow, it won me over again. When my youngest son Charlie began to play grade cricket, he rose through the ranks to become captain of various teams at Claremont-Nedlands, and used to bowl fiercely from one end while Dennis's son bowled from the other. What a duo! My son has gone on to have extremely interesting cricket jobs with the WACA, ICC and now as the National Coach and Director of Hong Kong cricket. Through him I have learnt a lot about international cricket and the role of the affiliate countries, etc.
There is little left to say about Phil Hughes' tragic death. It stunned the nation. To see it happen in real time on TV, and to see those scenes played over and over again for the media's own benefit, sickened me. Sure, an outward showing of grief was natural, but the obsessive degree of reportage bordered on the obscene.
Thankfully, there was the occasional piece - Justin Langer's moving tribute in the 'Sunday Times', for instance - offering a semblance of balance. And I can't help feeling oh so sorry for Sean Abbott, the bowler.... But along with cricket, music features strongly in your poems. I've only recently come across the music of Oscar Peterson but recall you mentioning the musician in your poem 'Under a Black Beret' ... when did you first become interested in his music?
When I was born, my mother was playing piano, socially, and my father had sung in Gilbert & Sullivan productions. My mother loved the Charleston and such music and my father was into the Nat King Cole Trio (before Nat started singing) plus Sophie Tucker, Eartha Kitt, Frank Sinatra, etc. So I was born into a music-loving family. As number six, I was influenced by elder siblings and their music, which turned me on to Benny Goodman, Glenn Miller, Gene Krupa and Louie Bellson. I started playing drums when I was 14 on an enormous old dance band kit. Two friends at school were learning trumpet, so we all gravitated to Bix Beiderbecke and Louis Armstrong - and followed a local band called the Riverside Jazz Band. Being a bookish fellow, I learnt all the history of jazz and delighted in the characters and the melting pot of various styles - from blues to call-&-response, stride and boogie, swing and be-bop, until I hit progressive jazz - with Stan Kenton and his Orchestra. Oh, it had a lot to do with the rhythm and the release-&-tension of complex jazz charts. When I was about 17 I heard Miles Davis with the Gil Evans Orchestra playing Porgy & Bess. I've been listening to Miles and his sidemen ever since - Coltrane through to Kenny Garrett. I also like exploring avant garde classical music - Stockhausen, Varese, and their heirs (including much of the music of Frank Zappa).
So, it wasn't so much Oscar Peterson's piano playing that won me as his tight-knit trio with Ray Brown on bass and Ed Thigpen on drums. Trios have become the most economical of jazz mainstream groups, and many have influenced music of all styles. For instance, the Bill Evans Trio had Scott Lavaro on bass, and when they recorded, Scott was given equal weight as Bill's piano. This bassline in the frontline is part of popular music today.
It is the interweaving patterns of the melodic push and the contrapuntal rhythms that have influenced my poetry. For the 'silences' between some short lines/verses, you may say it is a trade mark of Miles. And for the leaning towards using everyday phrases in a creative way, you might look at everyone from Cole Porter to Bob Dylan and Tom Waits.
You've been writing - stories, plays, poems - on more or less a daily basis since your teens, and it was the work of Kerouac and Ginsberg and other 'Beat' writers that first gained your creative interest.... How did that come about?
I was a boarder much of the time at a Jesuit school - with the Latin mass, decades of the Rosary, Benediction many evenings, the Angelus every afternoon, Stations of the Cross and various novenas and silent retreats. Oh, much mystery mixed with faith and ceremony! Add TS Eliot going High Church Anglican in UK, and Gerard Manley Hopkins becoming a Jesuit - plus stories of the saints and martyrs, and you have the seedbed for a love of ceremony and wordplay. Jazz was in my veins, so I read down beat magazine and imported US Time - I read a glimpse of Ferlinghetti in Time where he wrote - 'priests are / but the lambchops / of God'. It was irreverent, it was witty and it was poetry. Cool. I started to investigate the San Francisco Renaissance and read with delight 'Howl' by Ginsberg and 'Maggie Cassidy' by Kerouac - jazz, zen and vibrant lyrics mixed with irreverent wit and sex references! Phew, it bowled me over. I went backward to William Carlos Williams and Ezra Pound and forward to Lowell and Berryman ... I left my safe confines when I finished school and hitched to Sydney to work in factories and such, to live in 'voluntary poverty' and to celebrate the working man! Ha - he hated me, that man. I had a college boy accent and wore high class clobber even when I was working at a tip! Poets - ya gotta be a misfit sometime, or maybe it is - most of the time :-)
Lawrence Ferlinghetti, speaking last year to Interview magazine, suggested the values by which the Beat generation had been identified (individualism, non-conformity) had been lost over the years, 'I just think about what the '60s did for this country. But now, today, you wouldn't even know it happened. You see everyone in cafés on their computers. The feeling today is total materialism. Today is just as Ginsberg predicted.' - and I'm wondering whether you too sense something similar to the loss Ferlinghetti refers to?
The Beats for me included Kerouac, Ginsberg, Corso, Snyder and Ferlinghetti. I'd been reading jazz magazines and listening to musical comedy and jazz lyrics for some years, so the wit and rhythms of their writing had laid a foundation for me. I had grown up in sheltered circumstances and wanted to meet 'real people', so - under the influence of 'On The Road' and 'Howl' - I hitched to Sydney when I finished school and worked in factories, as a sideman on a truck, and even a scavenger on Curl Curl Tip. I also dabbled in drugs and sank a few gallons of grog, which didn't help me write at all! On returning to Perth, I published some poems in a roneoed and stapled magazine called Thrust, started by Hal Colebatch and continued by myself and Viv Kitson. One of the poems - 'Curl Curl Tip' - caught the eye/ear of Dorothy Hewett, who rang me up and asked me to read at a protest against the police brutality against students who protested at an anti-Vietnam war rally in Forrest Place, Perth. Fame at last! I read with the backing of a guitarist and a harmonica player - very exciting. Dorothy and Merv and I became friends - and I learnt so much more about literature and life from them. (ASIO were busy sniffing away in the background, silly bastards.) If we are composed by our influences, I started out under the spell of Milton's 'Sonnet on his Blindness' and ended up, (now for the last five years or so), beguiled by Charles Bernstein and his poetic stance and poetry (impossible to separate). Dylan's songs have been with me ever since he started - I was about 19. Experimental music based on old song structures and ancient music is also an interest. So, the Beats certainly were a major influence in the beginning of my writing, but Theatre of the Absurd, all kinds of music, and sharing stances and poetics with various other writers met along the track, has shaped where I'm at today.
And do you have anything new to share?
Yes, here's one.... 'Playing a 500 Year-Old Oak'.


Playing A 500 Year-Old Oak
With a burst and rush
of salvage balloons
the drowned oak trunk
breaks water
like a sheet of silence …
On dry land
an instrument maker
taps with a knuckle
and his knock ripples back
through circles which sank
and lay waiting to be scored,
fences strung to play
knotty fence lines
before violinists.
In the oak's ringed ripples
mill hands dance on logs,
fiddlers play tides of wood
and working songs of
loggers who fell the trees,
saws singing and swinging axes
beside the logjammed waterways,
in sweet scent of sap, blossom of air,
knotty notes, sweat rivering
down lumberjacks' backs,
sunlight falling like planks
throughout the forest.
Envoi
Rack upon rack
of violins
hung up to dry
sap running
down their bodies
like birth sheen.
Interview - Andrew Burke & Ralph Wessman, December 2014