---
TASMANIAN POETRY FESTIVAL
[For more information, please visit the Tasmanian Poetry Festival's website].
---
The 2022 Tasmanian Poetry Festival ran from Friday 30th September to Sunday 2nd October, featuring guest poets David Mason, Fleassy Malay, Thomas Bailey, Ren Allessandro, Daniel J. Townsend, Anne Kellas and Therese Corfiatis.

Preceding the festival, on Friday 23rd September, a celebration was held in honour of Stephanie and Tim Thorne.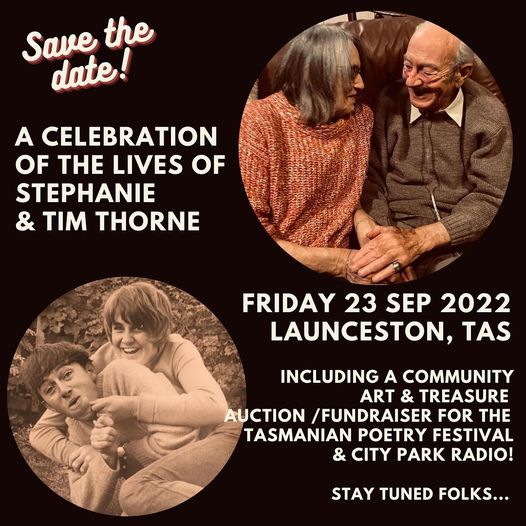 The Tasmanian Poetry Festival, an annual event held in Launceston was founded and for seventeen years directed by  Tim Thorne, from 1985.

From 2003 to 2018,  Cameron Hindrum directed the festival until, in turn, he passed the baton over to Evie Wood who took charge in 2019.

Because of Covid-19 restrictions, the 2020 festival was rescheduled to March 2021. Directed by Colin Berry, the 2021 festival featured comedy legend Rachel Berger, poets Geoffrey Miller, Rebecca Young, Joy Elizabeth, Jane Williams, David Mason, Kim Nolan, Tim Slade, Brielle Quigley and Susan Austin. Geoffrey Miller won the 2021 Launceston Poetry Cup.


2019 Guest Poets: Rees Campbell, Ross Donlon, Tug Dumbly, Carol Easton, Pola Fanous, Marie McMillan, Gina Mercer, Gregory North, Solli Raphael and Chrys Salt,
2018 Guest Poets: Michael Aiken, Marilyn Arnold, Amy Bodossian, Arielle Cottingham, Quinn Eades, Nicola Easthope, Helga Jermy, Gabrielle Journey Jones and Jesse oliver.
2017 Guest Poets: Pete Hay, Amelia Walker, Mala Anthony, Arjun von Caemmerer, David McCooey, Talya Rubin, Sam Wagan Watson, Izzy Roberts-Orr and Kristen Lang
References to a number of previous Tasmanian Poetry Festivals - culled mainly from back issues of  'famous reporter' - can be found below:
Guests in 2013 included Michael Sharkey, Aidan Coleman,  Anne Kellas, Darkwing Dubs, Lisa Jacobson, Sandy Holmes, Andy White, Eleanor Jackson &  Doubting Thomas - and featured the 'Ted & Sylvia' multimedia performance. The festival ran from Friday 4th to Sunday 6th October, 2013.
Images—2013 Tasmanian Poetry Festival
The 2012 Tasmanian Poetry Festival ran from Friday 5th to Sunday 7th October, with guests Dael Allison, Omar Musa, Richard Tipping, Chris Mansell, Mandy Beaumont, Candy Royalle, Roberta Lowing, Matt Hetherington, Janet Jackson ['Jackson') and Alex Skovron. Tasmanian Poetry Festival 2012 - images

Tasmanian Poetry Festival 2010

Saturday evening:  2009 Tasmanian Poetry Festival (Launceston Poetry Cup)
Section of a March 2008 interview  with Tasmanian Poetry Festival director Cameron Hindrum, dealing with the running of the festival.

Notes -  2008 Tasmanian Poetry Festival

Notes -  2007 Tasmanian Poetry Festival

Notes - 2006 Tasmanian Poetry Festival

Notes - 2005 Tasmanian Poetry Festival

Notes - 1995 Tasmanian Poetry Festival

Tim Thorne: 1994 Tasmanian Poetry Festival