FIONA FARRELL
Launch – Jenny Powell's poetry collection South D Poet Lorikeet (Cold Hub Press)

Dunedin. 14th November, 2017.
From left: Bronwyn Wylie-Gibb (Events Manager of University Book Shop, Dunedin),
Jenny Powell, and Fiona Farrell launching the book.


Some years ago I was a Southern Light, one of four poets packed into a small Toyota and dispatched to the Wairarapa for a week. Michael Harlow, David Eggleton, both of whom I knew. And a woman from Dunedin with whom I became acquainted as day after day we pulled into schools and libraries to read our work. Her voice was delicate and she read, with a kind of quiet intensity, poems that at first hearing seemed delicate, fragile, perfectly poised - until you listened a little harder and discovered the sheer tensile strength of the lines: if this was delicacy, it was the delicacy of fine wire, of the slender knife blade, unbreakable. The subject matter was strong, vivid, often dark, and permeated with a sly subtle humour. Sex clubs in Sydney featured for example. This woman was no bird of brown plumage. She wore trousers of brilliant red satin. A vivid lorikeet.


And here she is once more, alighting with another volume of her poems. Jenny Powell. South D Poet Lorikeet. The word play is characteristic, as is the precise sense of location: not just Dunedin, but South Dunedin as the opening poem establishes. This is a voice from the south, a bird – a Rawhiti songbird whose call 'haunts bedraggled trees.' I have read them with delight and admiration, for their delicacy of perception and expression, and that same tough tensile wiring. Story and myth are referenced: Alice in Wonderland, for example, or passing through mirrors, in a series of poems that become a sharp and shattered biography, tiny shards reflecting aspects of self, a kind of visual disturbance made up of exquisitely rendered scenarios: of the Shadow Girls, for example, one of whom is a skipping girl, who turns 'the rope until her shadow was sharp as a cut.' And Trouble girl who is found 'crouching in colour, face buried in gypsophila, breath heaving with no tears.' And Pale Girl in her 'darkened sanctuary,' who is 'apart and a part', and Perfect Girl whose 'hair is parted with a snarling comb the pressure of parting and parting drawn in red, every strand accounted for in equal plaints before the outside day begins.' And Lost girl in the brilliant colour, the vivid pink of high fashion that is also the colour of blood on cut skin, the colour of the vividly plumaged lorikeet. And Sin Girl and Sing Girl, who refashions Dylan's Hard Rain to her own purpose.

The shattered biography however is only one aspect of this collection. Other poems make artistry of the everyday, like the finest of engraving: a paper boy, for example, races the sun on his delivery run, a pile of moleskin trousers on sale prompts a delicate comic meditation on the skinned moles, a garlic clove, peeled of its thin skin, transmutes into the poet's heart. To read these poems is like moving from frame to frame at some artist's exhibition. There is that same delicacy of line, of surreal perception, of drenching colour: blue for example, in one of my favourite poems in which an elephant perches 'on a blue hydrangea.'

This is a deeply satisfying collection. It is no surprise that it concludes with a poem whose central figure is a woman in a lorikeet teeshirt who visits a physiotherapist. Dark lines have fallen onto the back of the white teeshirt, but the physiotherapist picks 'each hair from the white surface of her shoulders'. 'The woman in the lorikeet tee shirt starts to feel better.' Reading this collection is to move from pain to the healing that comes with words, carefully applied to the wound. It's a wonderful work, beautifully produced incidentally by Roger Hickin and Cold Hub Press with art work by the amazing Kathryn Madill, framing words by South D's remarkable poet lorikeet, Jenny Powell.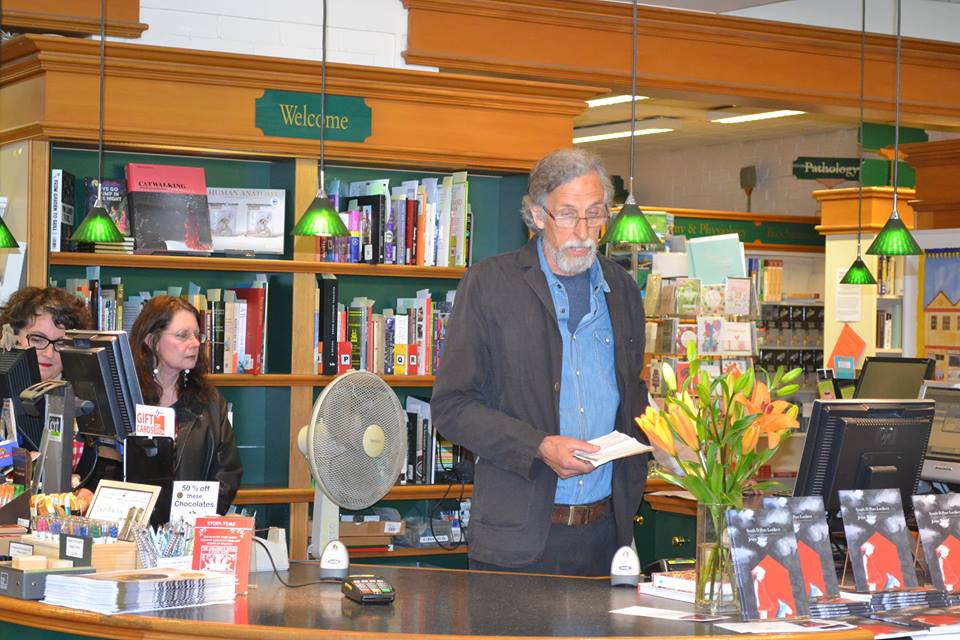 Roger Hickin, Cold Hub Press
---
JENNY POWELL is a Dunedin poet, performance poet and creative writing tutor. Her collections include Sweet Banana Wax (HeadworX, 1998), Hats (2000) and Ticket Home (Cold Hub Press, 2012) and Trouble (Cold Hub Press, 2014). The Case of the Missing Body, (a NZ Book Council Book of the Month) is Powell's account of discovering purposeful physical movement, and was published by Otago University Press in 2016. Her collaborative multi-media work, 'Alive In Berlin', was produced by Talking House as part of the 2017 Dunedin Fringe Festival.

FIONA FARRELL is one of New Zealand's leading writers, receiving critical acclaim across a variety of genres. Uniquely she has been a finalist in all three categories at the NZ Book Awards, for fiction, non-fiction and poetry. Fiona is a frequent guest at festivals in New Zealand, and has also appeared at the Edinburgh International Book Festival, the Vancouver International Writers' Festival and the Adelaide Festival. She has held residencies in France (1995 Katherine Mansfield Fellowship to Menton) and Ireland (2006 Rathcoola Residency). Fiona was the 2011 Robert Burns Fellow at the University of Otago. In 2007 Fiona received the New Zealand Prime Minister's Award for Fiction. In 2012 she was appointed an Officer of the New Zealand Order of Merit for 'services to literature' in the Queen's Birthday and Diamond Jubilee Honours List 2012, and in 2013 was awarded the Michael King Writers Fellowship. Fiona maintains a web presence at fionafarrell.com