ANNE M CARSON

Launch: EA Gleeson's 'Small Acts of Purpose'
Collected Works Bookshop, Melbourne - 28th Sept 2017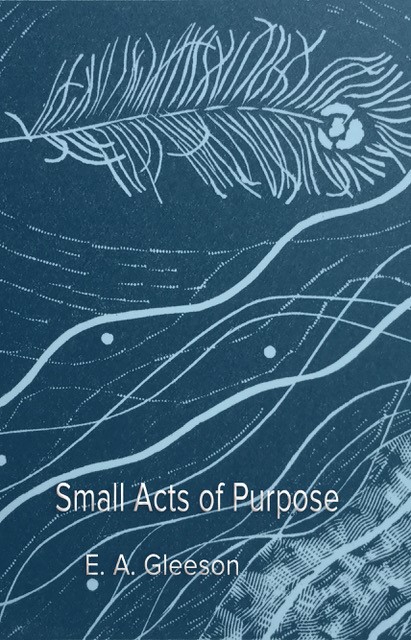 I first met Anne at the Wollongong Poetry Bootcamp in 2005. We struck up an immediate and deep friendship which has travelled well over the years as both of us have made many transitions. I remember Anne saying to me not long after we first met that she had come to the end of her teaching career and that she wanted to be funeral director. How extraordinary that declaration was! It struck me at the time how passionately she made it and how vocational it seemed to be.

It took much hard work and dedication through the hard and lean times but Anne's work running McQueens Funerals alongside husband Steve, has led to a flourishing business. Through all these years, like a companion river, has been the poetry. These two streams of Anne's have flown together, weaving in and out of each other for many years now; Anne brings all her poetry to her celebrant work and all the empathy and compassion and awareness of death – from the celebrant work to her poetry. These two come together physically in the soirees she and Steve hold at McQueens, providing a valued cultural contribution to the life of Terang and surroundings.

This is Anne's third book and it has taken four years of dedication to her art – writing, crafting and refining to bring this body of work to fruition. I suspect she had a poet's eye and ear from very early. Perhaps her poetic imagination was birthed with the animals and tractors and seasonal observance in a farm yard "that breathed steam in winter."

I feel very privileged to be here to speak of her work and to launch Anne's new collection "Small Acts of Purpose".

Good Funeral Directors are sharmanic figures, they hold us by the hand as we look on the death of loved ones. It is a tender and muscular task to orchestrate the alchemy of farewell. This is where the task of a poet intersects with that of a celebrant. Anne's poems are made rich by the poet's awareness of finitude.

Death, weaves its way in and out of these poems. Anne speaks variously of:
"lighting a Candelabra for this world and the next"
"The long quiet"
and of "Everything emerging, diminishing, ending,"
In one poem she describes the bridge spanning the Delaware River in the USA as an existential bridge and that is an apt phrase, for many of Anne's poems, as she herself says, "join what was not with what is". They also join many of the other opposites in life, including life and death.

Anne is interested in issues of morality as well as mortality in her work. Many of the poems talk about how to live a good life, and the role of the Arts in awakening that desire is memorably described, in the poem Sydney Opera House – 9 November 1960, on the occasion of Paul Robeson singing to the Sydney Opera House labourers.

She asks:
"Whatever happened to those men who downed/ tools to listen to the singer reminding them/that life could be lived differently?"
The title of the collection "Small Acts of Purpose," orientates us to Anne's values. When we look at the range of troubles besetting the planet and human culture it's good to be reminded of the power in small intentional acts, whether this is: making art, extending compassion to those who are suffering, recognising injustice or appreciating daily beauty. Like fellow poet Seamus Heaney, Anne has taken ordinary domestic activities as worthy of serious poetic attention. In a loving tribute to her mother, and with a nod to Heaney's own poems about sharing domesticity with his mother, Anne has written of memories of her washing line and the consolations of "every soft thing/that came between us and the hard surfaces of living".

Anne has a refined sense of the past and family and forebears feature in her work. She has one character "Wrapping her words in big spaces/wrapping her family in her gaze." This could equally be said of Anne the poet and her words wrap us in her tender, always curious and sometimes confronting gaze.

Her poems give us much beauty, particularly in observations of the natural world. Anne's knowledge of the natural world and the life cycles of growing things are deepened as I mentioned by a farm childhood and by her work in her own extensive garden. This intelligence informs many of the poems. The apotheosis of this is found in: Instructions to the Lilies of the Field. A beautiful poem full of the 'revelatory impulse' as poet, friend and colleague Ross Gillett has it, and is another example of the intersection between Celebrant and poet.

In deceptively simple language Anne evokes Biblical grandeur and a secular priestly instruction.

Here are some lines:
"Let yourself become.
Do not fret the rain or the wind
or the length of summer"
And memorably, later in the same poem:
"Let sunlight toil in your cells.
Let it be the miracle worker;"
For Anne, beauty is not only a highly valued aesthetic dimension of life, it is also related to morality. In the wonderfully titled poem A Scrutiny of Courage Anne poses the question: "Is courage distilled in beauty?"

In the moving poem Massacre Point, Anne honours the suffering of indigenous people as the colonizers sought to violently eliminate them and appropriate their land. The poem describes the collective blindness of the 1950s and 60s, and Anne juxtaposes her happy oblivious childhood memories of beach play against the horrible history she later discovers. Like her, it is impossible to forget those "Whimpering children, wailing women".

Her humanitarian impulse is also expressed with fellow feeling in a number of poems as she "untangles the euphemisms of war" and empathises with those caught up in conflict. She salutes those undergoing post war-recovery in poems referring to Northern Ireland but speaking for all political and war torn divides and later in the book, those affected by post-traumatic stress disorder. In another poem, she tells us that the concept of reconciliation is "more difficult to understand/ than/ transubstantiation".

Anne is both an inward and outward looking poet. In her outward gaze she travels extensively and we're taken to Belfast, Sambesi Forest, Warsaw, Vietnam, the USA and closer to home, Warracknabeal, Sydney, Weston Plains, Burford and Bundanong.

She employs a range of different shapes on the page and this adds an interesting visual element to the book – she employs different stanzaic and line lengths, justifications, and thoughtful relationships with the page's white space. Anne also pays attention to the sound of words and the music they make together. Consider this aurally rich, Hopkinesque phrase:
"finches' spring-wing splash of brighter yellow"
In emotional register, the poems cover significant distance from the sobriety of Anne's serious poems to a lightness of touch in her comedic repertoire, even veering into wonderful dark comedy in Early Morning Trip to the Crematorium and her post mortem talk with the suitably and soberly named Mr Brompton.

Anne has thankfully not followed her own tongue-in-cheek instructions in choosing her cover as articulated in the poem Guidelines for Publishing a Poetry Book. She has not chosen "a blonde model from Russia wearing a lot of make-up and a little bit of fur" or any other image which will "matter every time you look at the stack of unsold books in your cupboard." In Anne's case the cover image, alongside the poems, will sell the book handsomely. The cover painting by Susan Mannion is memorable – a beautiful feather image – one so suited to the delicacy and strength of Anne's poetic imagination.

I'd like to finish by reading part of one of my favourite poems from the collection. Komorebi, the title, is a Japanese word referring to the melancholic longing or nostalgia for a person or thing that is far away from you. In this poem Anne is referring to the repose and self-collection which are difficult to find in a busy life. But Komorebi, evocatively, also means the interplay between leaves and light when sunlight shines through leaves. I think it one of her most accomplished poems.

Here are some lines:
"… Tomorrow I will wear
an unironed shirt. I sit

and see with you
the garden in late light,

torch of the lowering sun
anointing the gnarl of branches,

igniting the last leaves. We
watch the persimmon burn and burn

like something sacred, until this day
dies and leaf russet blackens."
It now gives me great pleasure to declare "Small Acts of Purpose" by EA Gleeson, launched.
---
Anne M Carson is a Melbourne-based writer and visual artist who believes in potential of the Creative Arts to contribute to culture-making; the development of values and the making of a more humane, fairer world. She works with words in poetry and prose and with images in visual art. In addition she teaches Poetry Writing and Appreciation to adults and works as a project-based Creative Writing Therapist. "Art-making to me is a political (in the widest possible sense) as well as an aesthetic endeavour and also about our relationship to the ineffable." Anne maintains a website presence at annemcarson.com