MERRIDY EASTMAN

Launch: Berenice Eastman's 'My Capacious Hold-All of Recollections'
Fullers Bookshop, Hobart - 19th August 2017
Images: © Giles Hugo
It's amazing we're here today celebrating this book, amazing for so many reasons, not even counting the fact the author's 90! - because this book has been a true labour of love between two bunyips. I'll explain. Over the years our mother has belonged to many groups. Many here today know her through the FAW, the ASA, the ABC, the Education Department, the Hamilton Literary Society (or the Hammos, as we like to call them), French Conversation Class, German class, Friends of Chauncy Vale … and on it goes. But recently, for mum, it's mainly been the Bunyips, a group of 'fond ancients' - she calls this committed, supportive group of talented writers and friends, who regularly meet over coffee and cake to share their essays, stories and poems.

Avril Caney, (a writer of children's books, short stories and two novels) and Mum have been fellow friends and bunyips for many years now, but when Mum heard that Avril was also putting books together for friends to present to their families as gifts, she wondered if Avril might help mine her own "capacious hold all" (as mum's favourite author Virginia Woolf once described her own desk) - stuffed with letters, essays and stories she'd written over decades.


Having participated in several writing workshops over the years, mum had a collection of autobiographical stories that had captured the attention of her mentors, authors like Janet Turner Hospital, Cassandra Pybus and Carmel Bird who'd all told her she had everything it took to be a professional writer. (Cassandra Pybus said Mum's writing reminded her of Colette.) So while Avril continued arranging and editing, Mum continued filling in the gaps, until about six months ago an autobiography was complete. Hurrah!

Whether you know our Mum as a friend, family member, teacher, student or colleague, you know and I know that she's one of a kind. Dangerously honest, genuinely self deprecating, curiously childlike, ridiculously over-accommodating, terrifyingly angry if you ring her while The Insiders is on, (especially if Laura Tingle is eviscerating Peter Dutton), unbelievably well-read, hysterically funny, dainty, eccentric, and a constant source of inspiration to all of us (not to mention material for actors and writers… ) But however you know her, you can't help but wonder – how did Berenice happen?

Mum's earliest chapters are my favourite, because they are told in her most unique Berenice voice, that of her inner, curious and observant child. Although loved, little Berenice (whose sister was ten years older) was very much left alone to explore the house and garden she grew up in, in Pymble, a leafy northern suburb of Sydney. Her gentle, handsome father never regained his strength after returning from WW1 with malaria, leaving his daughter to be raised by her somewhat Victorian mother, Geraldine, an austere, opinionated woman whom mum compares (with good reason) to Lady Bracknell; a woman who insisted both daughters call her Maman.

Maman really deserves a book of her own: Prone to unpredictable mood swings and obsessed with bowel function, Maman decreed that rather than send her younger daughter to kindergarten or primary school (where she might catch any number of common ailments… or friends!) she should be educated at home, by a governess.

If Maman was like something out of an Oscar Wilde play, Ghee, mum's grandfather, was pure Nancy Mitford. Called Ghee because little Berenice couldn't pronounce Grandfather, this "burly, owl-shaped, Englishman" with his constant infectious laugh, loved nothing more than to take off in his vintage Chrysler car and, "drive furiously along very rough roads through French's Forest, blaspheming all the way at the choking dust that flew up at every bend." Mum's wonderful description of Ghee makes me think of Toad in Wind in the Willows, a play she loved to stage every year with her grade four's at Bellerive Primary (in which a young Essie Davis once positively shone as Ratty!) Because if Toad liked car racing, punting, house-boating and hot-air-ballooning, Ghee loved racing cars, tennis, yachting, and peddling on his beloved pianola, an instrument that inspired in his granddaughter a lifelong love of music.

But when young Berenice asked her mother for piano lessons (something most parents wish their child might ask for) Maman's confounding response was not just to pronounce both daughters "unmusical" and "tone deaf", but to continue filling the house with the sound of her own soprano voice as she sang about the shining moon, the sighing breeze, nightingales, daffodils, and so on.

It was the same when our mother set her heart on being a ballerina. At her very first lesson little Berenice could barely contain her excitement as she and Maman watched the older girls "perform a startlingly vital and sustained Sailor's Hornpipe". When she was invited to join in for the polka and flew around the room holding hands, Berenice thought she'd burst with happiness. But then came the stretching exercises, and horrified at the sight of her daughter bending backwards, Maman leapt to her feet, plucked young Berenice from the floor and stalked out of the room, reprimanding the teacher for causing "possible spinal injury!"

No wonder that Mum said she "perceived all adults around (her) as distant and inexplicable, almost extragalactic". Except, I think, her father. One of my favourite chapters in her book is the letter mum wrote to our brother John about her dad, the gentle grandfather we never met. And the precious time they shared in his old workshop in the garden, where the two of them would take refuge from the boredom of a Sunday afternoon - and no doubt from Maman! While he set up the lathe, his little girl sat nearby, and with the large box of wooden offcuts he'd given her, she'd create an ancient Egyptian townscape, or a tea party attended by guests with curly wood shaving hair. There is such love and longing in this four page letter about so much more than woodwork.

And so mum's book continues with stories of controlling mothers, loving fathers, and grandfather's who (thank God) shook the house with their laughter and athletic Pianola playing. And thanks to her governess, Miss Mabel, who turned up every day with her Bible and one of Arthur Mee's ten Encyclopaedia volumes, young Berenice not only spent her afternoons digging up the garden (with Anne from next door) hoping to excavate Noah's arc, but she discovered a world of folk-tales, myths and legends.

"I revelled in the supernatural wonders," she says, "the desperate quests and acts of heroism enshrined in these stories which have so greatly enriched our language."

No surprise therefore that in later years, we three children frequently went to bed - staring at the ceiling in the dark as we contemplated battling a giant with one eye; being trapped in a cave with a minotaur, or being confronted by a gorgon with a head full of live snakes. Similarly, our mother lit up the imaginations of her lucky students at various primary schools in Rockhampton, Brisbane and here in Hobart, whose most common question was - and it has become an Eastman saying: "Is that true Mrs Eastman?"

Mum's chapters about Abbottsleigh, the prestigious Girls school in Wahroonga that Maman finally sent her to when she was NINE, show the resilience of a child who's already survived a challenging upbringing.

The girls may have been horrid (except Margot!) but mum loved her English teacher who cried with laughter as she read Pickwick Papers to the class; her Scottish French teacher; and an eccentric head mistress, also champion cricketer, who'd walk the school grounds with a torn jumper held together with a giant safety pin. And, as only our mother could say, she LOVED LATIN! "The key to all languages!"

But before she leaves her childhood in Pymble behind, and with it this unique family clinging to a fading British empire, Mum shares some wonderful memories of her two beautiful aunts, Mabel and Linda, the latter who married Sir Hugh Poynter, son of Edward Poynter and Agnes MacDonald, Agnes MacDonald being one of the four MacDonald sisters who, between them, gave birth to Rudyard Kipling and British Prime Minister Sir Stanley Baldwin, and married two of the great Pre-Raphaelite painters, Edward Burne-Jones and, mum's great uncle, Hugh Poynter. Do keep up. There will be questions after…

She writes with such happiness about her four-year scholarship to Sydney University where she discovered her other great love (apart from Classical Mythology) - Biography. It was just before graduating in 1949 with a BA and Honours in English, mum tells us, that she met a handsome program seller at an ABC Botanical Gardens Concert. They were just bonding over visiting conductor Otto Klemperer, when they were separated by a storm!

Then there were the gap years in London, a city recovering from the war, where our mother worked at the Times Bookshop in Wigmore Street, from where she would visit the Wallace Collection in her lunch hour; where she invited cultured Mr. Blades, Head of the Public Libraries Department home for dinner, only to witness her older, more sophisticated sister establish a greater rapport, a broken heart hinted at with such delicate restraint it makes me want to go back in time, lock her sister in the cupboard and replay the whole thing, except I might not be standing here now…

But her British experience ended on such a thrilling note when, thanks to the ambitious Lady Bracknell, Mum scored front row seats in the Commonwealth Stand, Parliament Square, facing the doors of the Abbey for the Queen's Coronation! No sooner had she returned to Australia in 1954, 26 years old (and looking rather like Audrey Hepburn) when "yearning for the atmosphere of academia" (not romance, academia!) Mum landed a job back at her old university as secretary to the Professor of Applied Mathematics. She made friends with Brenda, the secretary for the Professor of Pure Mathematics. So mum was called the Applied Secretary and Brenda was the Pure Secretary, and although they got on like a house on fire, the professors hated each other, so the two secretary friends had to write poisonous letters to each other until one day, an Irish Professor (the Professor of Breaking Hearts) broke Mum's heart. "Go!" the Pure secretary commanded the Applied. "Go anywhere, Berenice! Just buy yourself a ticket to some other place and go!" This has been our mother's advice to all three of her children every time we've had our hearts broken, which explains whey we've lived all over the place. But it's also why Mum ended up in Canberra, where she was accepted into the National Library Training School, and where, unbelievably, she again ran into dad. No storm to part them this time.


Given their diverse backgrounds, I think it's extraordinary that these two people got together at all, let alone bumped into each other twice, in different cities. I mean there was our mother from Pymble, where her aunts leapt gracefully across Ghee's tennis court wearing hats with nets, and the men all had names like Ernest, Spencer, and my favourite, Monty Bean. And there was dad, whose family of five all lived in one room, and whose life reads like Angela's Ashes set in Punchbowl.

But to this day mum doesn't think it extraordinary at all, given their shared passion for music and theatre. She talks about their relationship as if nothing in the world could have kept them from finding each other.

The last part of Mum's book was Avril's idea. So impressed was she by the calibre of Mum's essays written for literary meetings, or as part of her ongoing academic studies, Avril suggested they deserved a section of their own. And what were these essays about? Well they all had two things in common: Firstly they were about mum's favourite authors; and the second thing they had in common genuinely took Mum by surprise.


"Merridy!" she cried down the phone. "They're all women, can you believe it?" Of course I could. Why was she so surprised?"

"Oh I don't know," she sighed, "I was just so drunk on the wish to explore the sharp minds of these wonderful people, I truly hadn't noticed."

I think our mother's always been drawn to writers who were denied the literary recognition, success and analysis they deserved, like Mary Webb for example who, at least when Walter de la Mare describes her, actually sounds a bit like mum:
"She brought her own quietness into a room… birdlike, demure. She loved to listen to others talking quite as much as to talk herself, but her own talk had an extraordinary eagerness and vivacity. Then her nervousness was no more, and she shared her own intense interest and her own happiness."
The other writers she's chosen range from Virginia Woolf and Miles Franklin to her friend and poet, Gwen Harwood. And of course no book our mother wrote could leave out Nan Chauncy. If you think it's inspiring for mum to celebrate her ninetieth birthday with her own book launch - at the age of 74, she completed her Master's Degree with a thesis on Nan Chauncy. This wonderful Tasmanian author had not only introduced her young readers in the 50's and 60's to environmentalism and the history of our aborigines, but Nan also introduced our mother to the beauty of the Tasmanian bush: the Cradle Mountains, the Gordon River and Port Davey, and to the courageous pioneering people who'd chosen to live in these isolated places and write about it.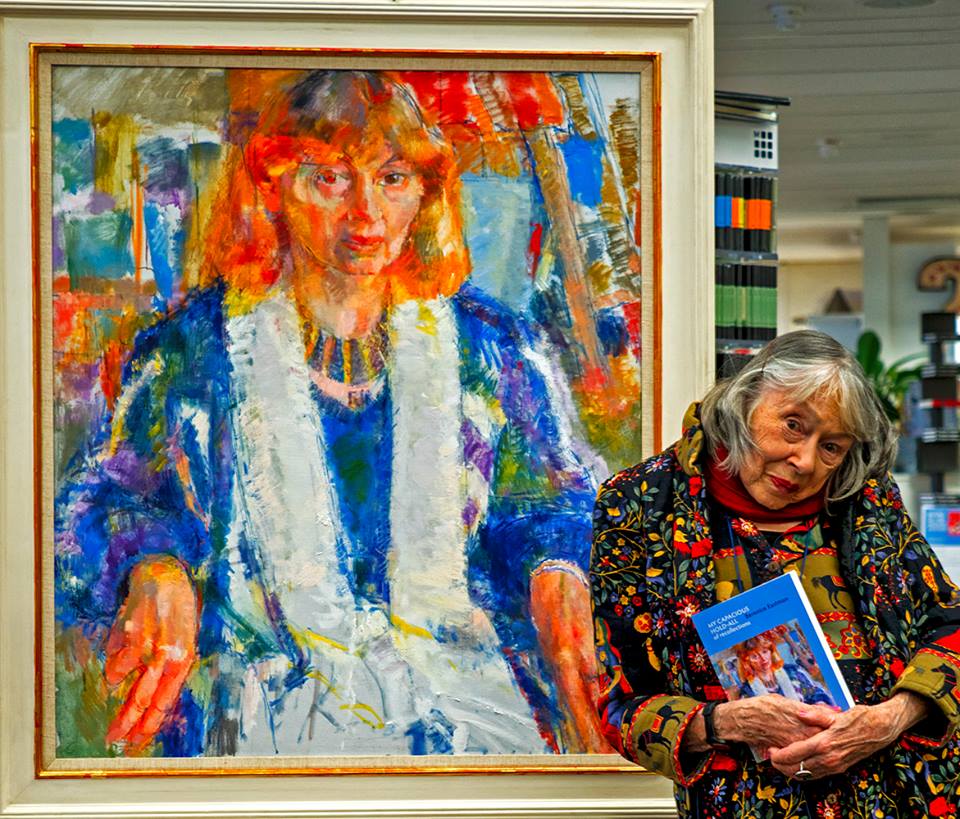 So, these two literary friends were in the last stages of putting these two parts together when Mum and Avril realised – this book's a bit wasted on family! And I couldn't agree more. So we're going to waste it on all of you as well. Trying to get it done by today has been a bit like going for a drive through French's Forest with Ghee, but thanks to Avril for all her wonderful work; to Essie and George Davis for letting us put George's stunning portrait of mum on the cover; to Clive Tilsley for all his help, support and for getting us printed before deadline; to photographer Andrew Wilson and Julie Hawkins, and thanks especially to my brother John who's busy working in London, and to my sister Virginia who's here today - they have both done so much!; to all the caring staff at BUPA; to all our shiny friends; and to our dear dad, we got here in time to launch our mother's book today, on her 90th birthday.

She could have been a pianist or a ballerina, but instead she found her bliss in literature, particularly in biography and mythology. A combination of both might be called A Hero's Journey. Mum's favourite mythologist, Joseph Campbell, who gave such insight into the power of myth in storytelling, always said to Follow your bliss. You followed yours, Roxie. Thank you for sharing it with us in this wonderful book about your own Hero's journey.
---
Merridy Eastman is a writer and actress who lives in Sydney with her German husband Tom, and their son Henry. A NIDA graduate, Merridy has performed in a swag of productions for the Melbourne and Sydney Theatre Companies and spent several summers leaping about botanical gardens across Australia, bringing Shakespeare to the masses. As well as being an ex Play School presenter, Merridy has also had major roles in Neighbours, Blue Heelers, Always Greener, and for three seasons played Rebecca Gibney's neurotic friend Donna on Channel Seven's Packed to the Rafters. Merridy's third book in her memoir trilogy, How Now Brown Frau (2011), tells the story of her biggest adventure so far, waking up one morning married, pregnant and without a word of German under her belt, living in Bavaria.

Giles Hugo: former writer and journalist; self-taught photographer since 1968; digital since 2005, but still using Leica, Canon and Zenit lenses from the '60s and '70s. Work mostly macro, abstract, skyscapes, people and 'street'. First solo exhibition 2015, Nolan Gallery, Salamanca Arts Centre, Hobart — still exclusive agents for all Hugo's print sales at Giles Hugo. Present photographic mission: Shooting my Black Dog Project — images to help counter depression.