---
Launch, 'Seven Stories': Hobart 28th April 2017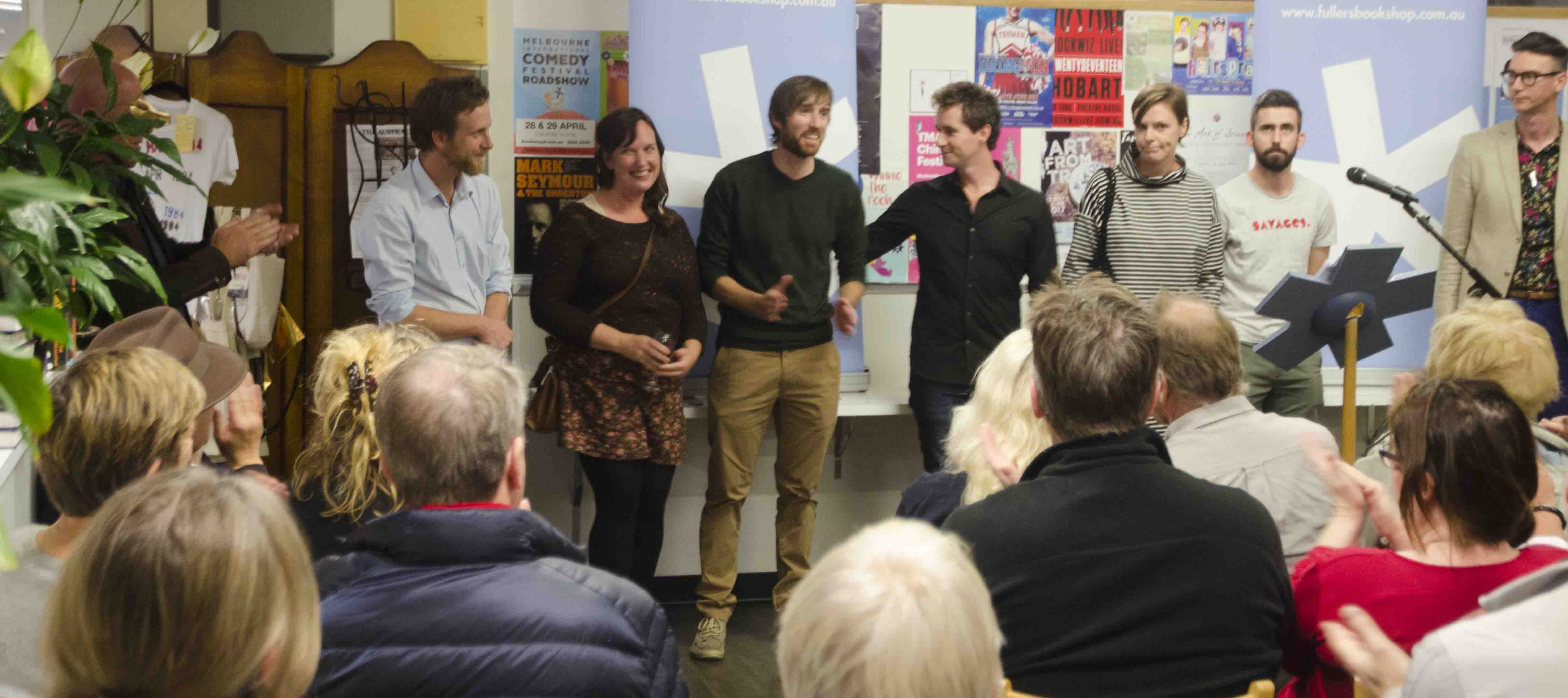 Richard Flanagan launched Seven Stories - a collection of short fiction by Tasmanian writers Susie Greenhill, Adam Ouston, Emma L Waters, Ben Walter, Robbie Arnott, Ruairi Murphy and Michael Blake - at Fullers Bookshop in Hobart in April 2017.

The book had its genesis as a collection of stories entered in the 2015 FAW Community Writers Award, awarded for an unpublished manuscript, compiled, written and edited by a group of writers. They're 'a loose collective of Tasmanian writers who have been meeting now for some years,' Flanagan elucidated, 'sometimes monthly, sometimes not at all'. Flanagan heralded the publication as 'a significant book in the history of Tasmanian letters'. Each of the seven write in wildly different styles and subjects, he said, with 'confidence and a sometimes vivid diction, an often loose and playful approach to language and a recognition of a world waiting to be described anew. Each of these seven stories shares a sense of slippage, an awareness of other realities, and I was struck how these stories are marked out by this as different from the orthodoxies of contemporary literature. Most writers in this anthology break with the suburban realism in form and high modernism in tone that have been the dominant features of so much Australian literature for the best part of the last half century.'

He went on to mention his own tribulations in starting out as a writer. 'Much has changed - and all for the better - from the time when an editor said to me in faux shock horror, "A Tasmanian writer? You must be the oxymoron!"

For Richard, Seven Stories was evidence of what results when publication occurs. 'I have no doubt the book will lead to others and perhaps, I hope, some life-long writing careers. Its publication reminded me that we are the only state without an independent publishing house, with a local base and bias but a national focus. And I hope Seven Stories might inspire someone to begin the very hard but necessary work of creating a commercial Tasmanian-based publishing house with a national remit. Because on the evidence of Seven Stories, something exciting is happening in Tasmanian writing, something fresh and daring. The book tolls the changes in Tasmanian letters over the last thirty years when it announces the future, a new generation of writers who, you sense, will shape much of how we come to see ourselves, and how others will come to see us.'

Flanagan's frustrations have long been shared by others arguing equally as forcefully of the need for a local publishing house. The late novelist and short story writer Geoff Dean, who began his writing career in the mid-fifties, felt that as a writer in those times he was living in a vacuum 'when you dropped your stories in a post office box and it was like dropping them in a great big black hole, never to be seen or heard of again in a lot of cases. The strait is not much different from a desert in many ways, it's equally as isolating'. Dean envisaged a regional publishing house interested not only in fiction but in many other forms of writing. 'There's a lot that could be published in a commercial way by a properly run small publishing house. And when you think of what Peter Carey did for UQP, and Albert Facey for Fremantle Arts Centre Press ... if you hit one book that was really popular you'd be well away.' Such a press never eventuated in Dean's lifetime; perhaps in the future ... ?