ELIZABETH GOULD AND HOBARTON
Author Melissa Ashley speaks about her book The Birdman's Wife, at Fullers Bookshop, Hobart, 10th October 2016.
---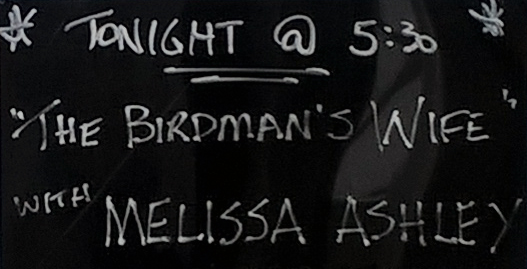 I'm excited to be in Hobart tonight, because it's here that I discovered the voice of Elizabeth Gould, the heroine of my book, The Birdman's Wife, so it's a very special place to me. My research trip to Hobart, wandering Battery Point, lingering in the civic park where old government house stood, twitching the city's birds, has been braided into many chapters and scenes in The Birdman's Wife. Indeed, the novel would not be what it is, had I not undertaken this crucial visit.

John Gould, the famous 19th Century ornithologist, known worldwide as 'The Birdman' and 'The Father of Australian Ornithology,' is renowned for creating the most sublime hand-coloured lithographs of birds the world has ever seen. But few people know that his wife, Elizabeth Gould, acted as his principal artist during the first 11 years of the family business. It was Elizabeth who created more than 600 of the hand-coloured plates published in his luxury bird folios. Yet her legacy has been overshadowed by her husband's fame. Not only did John Gould's name feature as the author of the folios the couple produced, but he co-signed his name to all of Elizabeth's plates. Hence, today, many people assume he was the artistic genius who brought so many amazing birds to life.

Although born in the early 1800s, in some ways Elizabeth's experiences parallel those of women today. She can easily be related to, juggling a successful career, and taking up her roles as wife, business partner and mother to a brood of seven children. She was also a passionate adventurer and, despite her demanding and ambitious husband, came into her own as a successful artist. With great courage, Elizabeth defied the conventions of her time, parting from her three youngest children to join John on a two year expedition, voyaging from England to Australia to collect, study and describe our wonderful bird species.

At a time when the old world was obsessed with discovering and classifying the natural wonders of the new world, Elizabeth was as at its glittering epicentre. She worked alongside legends like Edward Lear and Charles Darwin -- who was so impressed by her art works that he invited her to illustrate his famous Galapagos finches. Birds have always fascinated me as a writer, which over time, led me to a birdwatching hobby. This in turn created an interest in antique bird drawings and paintings. A friend loaned me a biography of John Gould, and it was within its pages that I first learned of his wife, Elizabeth. Her life gripped a hold of my writer's imagination, and I started to delve further into her story. The more I searched, the more I wanted to discover. I decided that my interest in Elizabeth's extraordinary life would be shared by many readers, and so I enrolled in a PhD in creative writing, and set out to reimagine her as the narrator of the historical fiction, The Birdman's Wife.


As with any such project, research was the most important first step. Initially, I felt very much overwhelmed by the sheer mass of material I had to get my head around. I'm a writer by training, not a scientist, nor an historian or ornithologist. So I had to bury myself in swathes of correspondence, colonial history, biographies of John Gould, lithography, ornithology and, the story of the discovery of our birds.

The first few months drafting The Birdman's Wife were a little excruciating, to say the least. My stalled attempts at telling Elizabeth's incredible story read like a dull pastiche of names, places, dates. The writing would not ignite. Through a process of trial and error, prompted by the horror of staring at the blank page, I came to realise that field research was as important a tool in my creative process as wading through library archives. During the four years that it took to write The Birdman's Wife, I learned to prepare scientific study skins, went on birdwatching and bird-atlassing expeditions – driving to far western Queensland, to twitch its rare birds, many of which the Goulds first described. I travelled to archives where original letters, diaries and lithographic plates were held, in America and throughout Australia.

I also made my way to Hobart. Indeed, if I hadn't visited Tasmania, I may not have gotten beyond writing part one of The Birdman's Wife, because the moment Elizabeth Gould figuratively set foot on Tassie soil, I was struck with an acute bout of writer's block.

You see, I had never been to Tasmania. Thus, I planned a research trip, bringing my sister along as photographer and assistant. Late in 2011, we took off from Brisbane airport to fly to the apple isle.
***
The Goulds lived in Hobart for 11 months of their 18 month 'sojourn' in Australia, heart of the penal colony of Van Diemen's Land. It has been suggested that Charles Darwin hatched the idea that the Goulds make Tasmania their first destination in Australia. He had visited Van Diemen's Land at the tail end of his Beagle Voyage, and, much fatigued and longing for home, compared the landscape to the Kentish parklands where he grew up.

After spending four months abroad the barque, the Parsee, the Goulds arrived in Hobarton, as it was known in the 1830s, on the 13th of September, 1838. I'd like to read an excerpt from The Birdman's Wife.

Excerpt:
Hundreds of native swallows skimmed the surface of Port Davey Harbour. The coats on their backs sapphire, their beaks the shape of hairpin tips. The red smear on their breasts, some said, was caused by their attempts to remove the nails on Christ's cross. Their forked tails were once whole, singed from carrying tiny buckets to douse a temple fire in Jerusalem. Like seamstresses' scissors, they snipped and cut the imaginary boundary between the water's surface and the air above. Fearless, they swept through the Parsee's network of rigging, making steep curves, gliding alongside a fraying sail only to change course, diving at neck-breaking speed towards the harbour's unfathomed depths. Just when you thought they would disappear, a suicidal rain of birds banked and turned, choosing a different direction. It was as if the squally conditions of Hobarton attracted the animals, as if they picked up the electrical thread preceding a storm. What compelled them to swim-fly so near the briny water's surface? Was the air temperature cooler, or did the current somehow buffet their tiny bodies? Was it a sort of game, such as children play, for the sheer delight of the body's surrender to movement, friction, space? A celebration of their skills in flying? Locked onboard a ship for five long months, how I envied the swallows' freedom.
All of the chapters of The Birdman's Wife – except one – are named after birds that Elizabeth drew, painted and lithographed. Before the 19th century, there was a widespread belief in Europe that in winter, swallows hibernated under water, like little feathered bears, rather than migrate to warmer climates. I make this observation in The Birdman's Wife, because in creating the characters of Elizabeth and John Gould, I also wanted to show the tensions between folklore, religion, literature, mythology – where birds are bound in symbolic relationships to human culture – against a 'rational' scientific viewpoint. In the quoted passage, Elizabeth presents her wonder at watching swallows cavort and play, her experience intensified by having survived the perilous journey to Australia. It's hard to believe, but until the Goulds visited Tasmania, the Welcome Swallow had not been scientifically described by Europeans. Despite 50 years of colonisation, no bird collector had peered closely enough at a welcome swallow to distinguish it from its European counterpart, the common barn swallow. It was therefore simply assumed to be the same species. And it's not difficult to understand why John Gould called this energetic, friendly little endemic – a species only found in Australia – the Welcome Swallow.
***
Upon their arrival in Van Diemen's Land, the Goulds and their party took temporary lodgings at Mr Fischer's Davey Street Inn. John wasted little time exploring and collecting specimens in Hobart and its surrounds, travelling in a 50 mile radius around the town; visiting the foothills of Mount Wellington, where he discovered the 40 spotted pardalote; and, after meeting Sir John and Lady Jane Franklin, joining Lady Jane Franklin on a surveying expedition around the south western reaches of the island.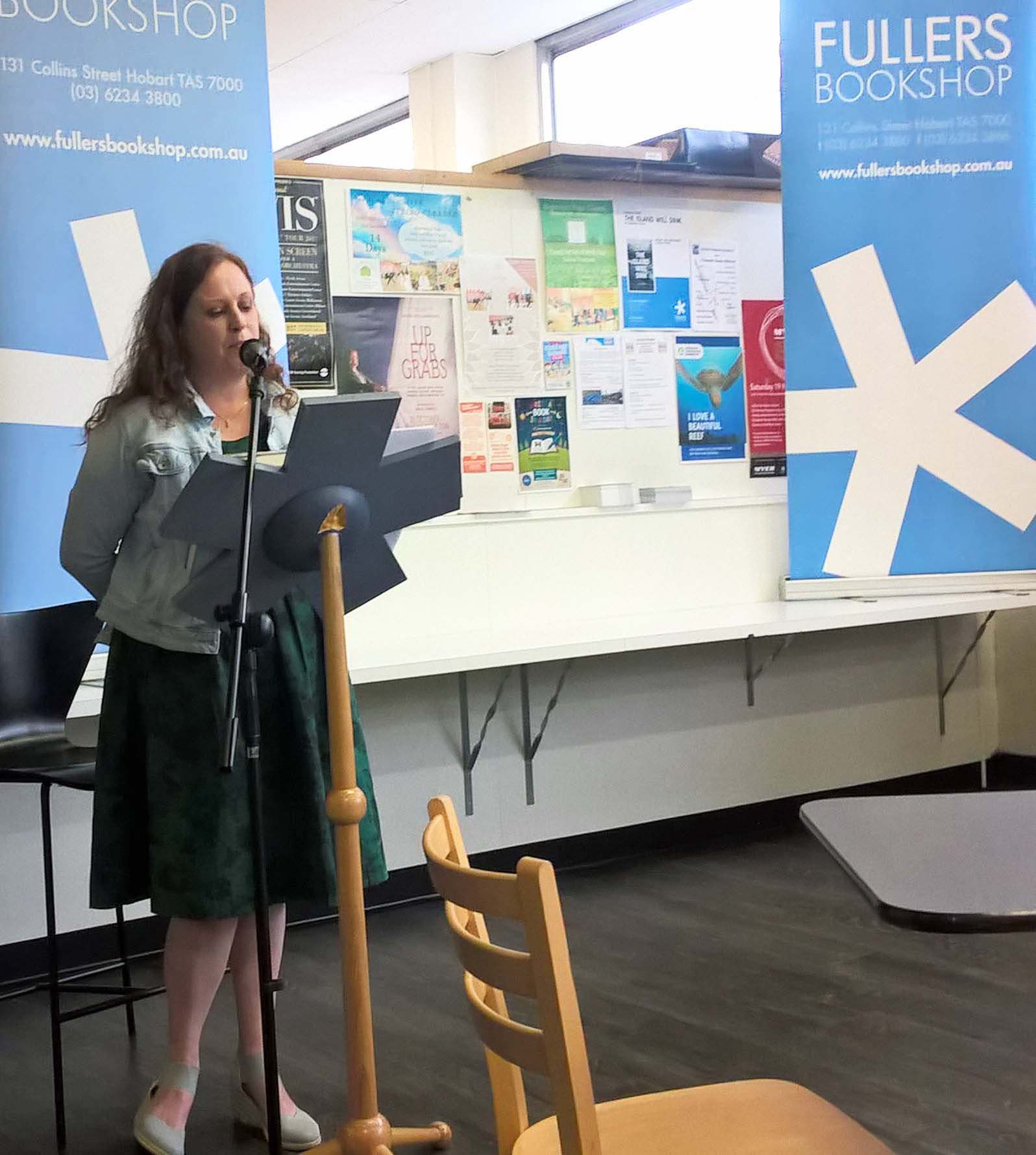 Melissa Ashley
A visitor to Hobart, I did what many tourists do, and embarked on an oceanic adventure tour around Bruny Island. It was an awesome trip. Dressed in an ankle length orange slicker and hat, wind and sun burnt, sprinkled with salt, but full of glee, I chatted to one of the guides about my wish to see an albatross. John Gould first described Tasmania's Shy Albatross, and to see one, we bumped and smashed across the waves, following a squall of muttonbirds feeding on a school of fish. My sister snapped shots of a glorious specimen, with an expression like Sam the Eagle from the Muppets on its face. Before I could comprehend what I had seen, our guide alerted me to a rather fiendish-looking pelagic, the same size as the albatross, flying closer to our boat. It was the fierce and aggressive Southern Giant Petrel. The bird was engaging in its common habit of opportunistic hunting, attacking the mutton birds so as to force them to disgorge the fish they had caught, and steal them for himself. I was struck by what a cross and aggravated looking creature he was, but also by the plumpness of his body, his heavy middle. Flying, he seemed awkward, like a World War II bomber. This may sound like a diversion, but on the expedition to Researche Bay with Lady Franklin, the party became wind-bound near Bruny Island. Frustrated, John Gould took a boat to the island, a former whaling station, and wrote to Elizabeth about what he had seen.
Then he had led an expedition to Bruny Island to rain what appeared to be a shearwater rookery, but they had been turned back by the stench of rotting whale flesh. Just around the headlands, a pod of southern right whales had been herded into the bay by a whaling ship and slaughtered. John was horrified by the waste and disregard for life. The beach looked like a charnel house of decaying meat and dried skin; of bleaching yellow bones, their parts so enormous he was reminded of furniture washed onshore from a sunken ship the whales' skulls the size of small canoes.

According to John, the most incredible sight was out on the open sea, the skies filled with southern giant petrels. The species, large as albatrosses, reminded him of airborne turtles, their lower bodies plump, their achievement of flight inexplicable. They dove down en masse to tear the blubber and flesh from the whales' discarded remains. The southern giant petrel was a fighting species, prone to attack, smashing their own and other species in the head, forcing them to disgorge the fish in their crops. Thanks to the heavy markings on their foreheads, they looked perpetually cross.
I was able to write these passages in a way that would not have been possible had I not taken the adventure tour, and encountered the thrilling spectacle of watching the strange-looking Southern Giant Petrel procuring its dinner. So much so, that I named a chapter after the species.

The Goulds only intended to spend six to eight weeks in Hobart, planning to sail to Sydney and then overlanding to the Upper Hunter where Elizabeth Gould's brothers, Charles and Stephen Coxen resided, making their living as pastoralists. There the Goulds would set up home. A base where Elizabeth could sketch and paint; a place from which John could embark on his collecting expeditions.

However, John and Elizabeth discovered more riches in Hobart's fauna and flora than they had expected. They were in effect seduced by the island's natural bounty to stay on. Though one could also argue that it was the friendships the Goulds made during their time in Van Diemen's Land that really caused them to linger in the penal colony. These people aided the Goulds' research project, acting as patrons; securing resources; organising introductions to important personages; and identifying prime spots for bird-collecting.

The first of these was the Reverend Ewing, a long-time correspondent of John Gould. He fairly gushed over Elizabeth's hand-coloured lithographs, writing of his eagerness to receive the latest shipped consignment of exotic illustrations. He was an avid bird fancier, and, in a letter dated in 1836, the first person to suggest to John Gould that he fix his sights on Australia's birdlife and mount an expedition. It was not a ludicrous idea. Between 1837 and 1838, Ewing, George Bennett of the Sydney Museum and Elizabeth's brothers Charles and Stephen Coxen, regularly shipped the Goulds any peculiar and curious bird specimens that they had collected, stuffed in tin boxes or swimming in preserving alcohol in jars.

Not many know, but before the Goulds departed England for Australia, they were already familiar with the colony's birdlife. John and Elizabeth had produced an illustrated a field guide, The Synopsis of the Birds of Australia, published in two volumes in 1837 and 1838, describing forty new species. The collection was not a luxury folio like The Birds of Australia, but rather a smaller set of volumes, intended to be used in the field as a reference by collectors. Think of it as the very first bird guide.
***
I want to talk a little about Reverend Ewing, as he is a great example of the alchemy that occurs when archival sources are studied and interpreted for the purposes of creating historical fiction. One of the major differences between fiction and biography is that fiction provides the space, the opportunity, for the writer and thereby the reader, to engage with real life personages' motivations, emotions, experiences and interior lives.

In a letter Elizabeth wrote to her mother from Hobarton, she shared her relief that Reverend Ewing, who was also a teacher, had taken her son John Henry, whom they had bought on the voyage, under his wing, enrolling him in the private school he worked at and waiving the tuition fees.

During research in the Spencer Library at Kansas University – the largest repository of Gouldian material in the world – I stumbled upon a manuscript written by Elizabeth and John's daughter, Eliza Muskett Moon. Amongst other observations, she confessed that she did not recall her mother's features – Elizabeth died when Eliza was six – but had been told by many people that her mother was a kind, loving person. Eliza Muskett Moon also shared an interesting anecdote about her brother, John Henry, who fancied telling the story of the time he was whipped and welted at the hands of Reverend Ewing. This fascinated me, and I immediately wondered what a sort of man Ewing might have been. Cruel? Firm? Disciplined? Of his time and period? It also made me consider how Elizabeth must have felt, upon discovering her son so harshly treated. Its significance with respect to Ewing's conduct and character, lay in the fact that it was a story passed through successive generations.

By chance, further research revealed a scandal involving Ewing, which took place after Elizabeth's death. Reverend Ewing was called back to London pending an investigation into his inappropriate treatment of several girls under his care. I was shocked by this, and determined to find a way to work the nastier side of Ewing into the narrative of The Birdman's Wife. John Henry's caning is written into a scene in the novel, which distresses Elizabeth greatly, reminding her of the sacrifice she has made in journeying to Australia, and its repercussions for her children. However, it was also a chance for me to show her character's strength and passion. In The Birdman's Wife I depict Elizabeth confronting not only her husband about Ewing's suitability to act as her son's tutor, but Ewing himself.

Ewing is a character about whom the Goulds' different expectations and desires regarding their Australian expedition constellate. For despite his treatment of John Henry, Ewing remained a great friend to Gould, who never lost his respect. John even named a thornbill after him -- Ewing's thornbill -- and, upon the couple's departure from the island, put the management of his Australian business interests in Ewing's hands.
***
One of the most famous associations the Goulds shared during their time in Tasmania was with the Governor of the colony and his wife, Sir John and Lady Jane Franklin. Following The Researche Bay expedition, Lady Franklin invited the Goulds to take up residence in a government-owned cottage, 'New Norfolk'.

I'm sure Elizabeth's condition also influenced the couple's decision to remain in Hobart. As she was wont to do, Elizabeth had fallen pregnant on the journey to Australia, and, possibly as a result of this, the pair ended up spending 11 months in Van Diemen's Land. Elizabeth later moved into Government House to bear her child, whom she named Franklin Tasman.
My initial encounter with Lady Franklin was memorable for the unexpected view of her it presented. After a maid met our carriage at the gates and led us on a brisk march to the gardens, we rounded a corner to be met with Lady Franklin's jiggling rear end. She was tugging furiously at a hardy-stemmed weed, impertinent enough to impose itself on a magnificent display of King George roses, which I later discovered she had personally grafted. The stays in her house dress had been left off and her broad-brimmed hat flattened her curls. Her feet were shod in men's boots, enclosing her ankles and laced around the shins, unlike the soft slippers favoured by most women of her station.
An avid gardener, I depicted the growing friendship between Elizabeth Gould and Lady Jane Franklin in conjunction with their passions for collecting and propagating plants. Elizabeth painted many watercolour sketches of Tasmania's plantlife, including a wonderful illustration of the Tasmanian Warratah. The drawings and watercolour washes are collected in an album held in the Mitchell Library. The paintings were extremely important – they are greasy, ripped, marked, torn – evidence that they were referred to over and over, in the production of The Birds of Australia. If you examine the drawings in the album against plates in The Birds of Australia, you can see that many species, particularly of honeyeater and parrot, are superimposed on these drawings with little change in the final plate design.

It has been said that when the Goulds farewelled the Franklins to sail for Sydney, Lady Franklin asked, in all sincerity, if she might adopt the toddling Frank. She had apparently grown quite attached to him. It seems Elizabeth was not amused. Although it did not affect the fondness they felt for one another. The Goulds returned to London a year later and kept in touch with the Franklins. Indeed, there is a rather poignant entry in Goulds' correspondence, following the sudden death of Elizabeth in 1841 from puerperal fever. Amongst the many letters of condolence, was a message from Australia, its sender Lady Franklin, catching Elizabeth up on the colony's news. Sadly it would be four months before Lady Jane received the sad news that London was to bring about her cherished former companion.


Tasmania was an incredible collecting experience for the Goulds, and a great stimulant to my writing imagination. Gould named many a new species spotted for the first time on the island. He collected 12 of Tasmania's 13 endemics, returning to England impatient to describe and present his findings, illustrated by Elizabeth's hand, in the Transactions of the Zoological Society. I had a similarly stimulating experience as a 'wanna-be' bird-watcher during my visit to Tasmania. I too, saw 12 Tassie endemics, missing out on the 40 spotted pardalote – I didn't spend long enough on Bruny Island – returning to my desk at university to make a fresh and excited re-start on The Birdman's Wife, taking up where I had left off at the Gould's arrival in Australia.
***
For me, researching and writing Elizabeth Gould's fictional memoir was a kind of archaeology. I had to uncover enough layers to feel confident to write the narrative of her interior emotional life. Two hundred years of analysis of John Gould and his contributions to ornithology and zoological illustration have created a luminous figure, a colossus even. But time and again, Elizabeth is consigned to his shadow. Biographical descriptions of Elizabeth represent her as her husband's obedient servant or supportive wife. And, maybe because she lived in Victorian times, all sorts of passive qualities were projected onto the sort of person she might have been: delicate, polite, elegant and deferent. Indeed, a few of John Gould's biographers' even suggested that she sacrificed her very life following her husband's pursuits. Actually, she died in childbirth. Perhaps, more than anything else, in writing The Birdman's Wife, I set out to overturn these outdated notions. It is my firm belief that Elizabeth Gould was a woman well-ahead of her time, a person many of us would like to befriend. She was tenacious, courageous, resilient, fiercely loving, talented and adventurous. And it's high time the spotlight was turned on her adventurous life.


---
Melissa Ashley is a writer, poet, birder and academic who tutors in poetry and creative writing at the University of Queensland. She has published a collection of poems, The Hospital for Dolls, short stories, essays and articles. What started out as research for a PhD dissertation on Elizabeth Gould became a labour of love and her first novel, The Birdman's Wife. Inspired by her heroine, she studied taxidermy as a volunteer at the Queensland Museum. Melissa lives in Brisbane.