DAEL ALLISON
HELP!
Humanitarian Aid in Nias, Indonesia
May 2006. The clouds are massing into silken towers above the jungle-felted hills, but it won't rain for another hour. Victor and I both drip with sweat. We clamber up a slippery path to another house. The owners, an elderly man and his son agree to answer our questions and invite us inside. The concrete block house is furnished with simple timber benches, the concrete floor immaculately clean. It's a relief to be sheltered from the blazing sun but I have to go back out to photograph the house and take the GPS reading. When I return I sink gratefully onto a wooden bench, fan myself with my hat. The men answer the questions with great solemnity. Victor looks up from the survey sheet he is filling out and says, They ask would you drink coconut? I nod enthusiastically.
The son is about forty years old, and sinewy. Outside we watch him tie the cloth band around his ankles. Grabbing his giri, a home-made machete, he nimbly scales a tall coconut palm, slashes some fronds away and cuts a clutch of green fruit. Back on earth he deftly slices four sides from the top of a coconut, slashes it open and hands it to me. The milk is cool, sweet, so welcome I guzzle it. Cold trickles down hot skin of my throat. The son takes my drained coconut and cleaves it in two, cutting a slice of shell for a spoon so I can scoop out the clear, delicious jelly.

At a pre-project briefing it was suggested that as we had many households to access in limited time, we should politely decline offers of tea or coffee in order to maintain the target quota. In three hot weeks this is the first drink we have been offered. The villagers are courteous, but far too poor for the luxury of tea or coffee.

I'm working on the island of Nias, west of northern Sumatra. Battered by the 2004 Indian Ocean tsunami, Nias was even more devastated three months later by an 8.7 earthquake. In the endless two minutes of the island buckling, around 1000 people were killed and 14,000 left homeless. Roads, bridges, power supplies and communications were ripped apart. HELP (Hilfe Zur Selbsthilfe), a German non government organisation, is here to rebuild houses and re-establish livelihoods. Axel, the NGO's 32 year old Nias director, tells me HELP's work is not only about the earthquake, but about poverty. This is a poor island.
Temporary house, Hilidohona
I have a month to work with HELP, before I commence another job. A month to collect data from every household in Hilidohona and Uluidanoduo, two subdistricts in the central mountains. This is the assessment phase of a proposed ten million dollar extension to the rebuilding HELP is already undertaking in the island's north. The granting of new funding is dependant on the data collected. There are around 1400 houses to assess in twenty villages. The plan is that each team of one Aid worker and a Nias interpreter, interviews twenty-five households each day. That allows around twenty minutes per house. Village is a term used loosely in rural Nias. It may mean forty or fifty houses strung out along the roadside, or a two-hour mountain trek to access a few dozen houses scattered through the jungle. There is a lot of walking.

Each survey is five pages long. We inspect the house, or its remains, estimate the percentage of earthquake damage, sketch the floor plan, note structural damage and construction materials, orientation, and the distance to the main road and nearest water source. We take GPS (Global Positioning System) readings and a digital photograph. We interview the family on the demographics of age, education, family size, income and livelihood.

Victor, my gregarious interpreter, is twenty five. When the earthquake hit, late in the night of March 28, he was walking home in the island's capital, Gunungsitoli. Thrown onto all fours he rode the road's frenzied bucking, his head filled with the tremendous grinding, the crashing of falling houses, the beginning of the screaming. When he could stand he ran to his parent's house, expecting to find his family dead, but luckily the house was not badly damaged.

At the initial project meeting with the Central Nias villagers more than three hundred less fortunate people crammed into a tin hall. They sat quietly while the project-leader explained, through an interpreter, there were no guarantees the funding would be granted. He asked the people to help by providing the data. There were several dignified speeches in response, telling us the villagers appreciated our interest and would cooperate. One white haired elder, made a long, quietly passionate speech. Afterwards Victor told me the old man explained that in the fourteen months since the earthquake many other agencies had come, collecting data, promising aid. None had returned. The old man hoped HELP would be the agency that came back to rebuild the houses.
Earthquake-damaged house, Uluidanoduo
On our first data collection day I leave Gunungsitoli at five in the morning with my German co-workers and our Nias interpreters, including three recruits. It is a manic three hour drive dodging potholes, chickens, pigs, ducks, motorbikes carrying up to five people, trucks, and minibuses bulging with people, some nonchalantly riding on the lurching roofs. The roads are narrow. Every few hundred meters we veer around plastic sheets of drying rice or rows of drying concrete bricks; the flat road provides an excellent work-surface. And the drivers of our two twelve-seater minibuses seem compelled to pass everything. We lurch like clothes in a wash-cycle. Most of us feel car sick. In the vehicle ahead a young recruit vomits out the window.

Because of the travelling distance we stay during the week in the main town, Helezalulu. Accommodation has been negotiated in a local house. It has large cracks in the walls and floor, but is basically sound. The young owners rent us two rooms and use of the main living area. Up to a dozen of us sleep on kapok mattresses on the concrete floor, a girls' room and a boys' room. The bathroom is typically Indonesian, cold water in a square concrete mandi with a plastic dipper, and a squat toilet. The water runs out through the broken floor.

We have to wait to collect hand-drawn maps from the Kepala Desa, the local leader. These indicate the location of every house in the sub-district. It is early afternoon when we reach our first site, thirty minutes up the valley. As soon as we arrive it starts raining. Heavily. We put on our heavy yellow rain-capes and follow the old man who has offered to guide us, labouring along the narrow jungle paths like a file of ungainly ducklings. The rain continues for most of the next five hours. The old man is drenched, but we are too, we sweating torrents under the thick plastic capes, which do little other than protect our clipboards.

We ford stony rivers, clamber up and down precipitous, muddy hillsides. We slide sideways on slopes. In five hours our three teams interview a total of six families, and document two collapsed concrete-block houses. I try to imagine the labour involved in carrying dozens of bags of concrete, plus the aggregate needed to make the concrete blocks, through this rampant green jungle on sticky red-clay paths. It is over an hour to the road. Our guide tells us these buildings belong to his son, whose wife and two babies were killed in the earthquake. But by the time we realise the old man has shown us only the houses of his relatives, including two outside the survey area (to the indignation of other villagers), and lied about a short cut back to main road, our sympathy wanes. My expensive bushwalking sandals have not factored jungle mud into their design; the velcro fastenings break open on steep slopes, I slide out of them constantly. Victor and another young interpreter, Maria, abandon their thongs, preferring to risk the sharp rocks and bamboo spears. Exhausted, footsore, we cross the last river, thigh-deep and rapidly rising, reaching the main road on dark.

Our urban Nias interpreters had feared snakes. Reasoning no-self respecting snake would be out in that rain and mud, my concern is communications. We have no radio or satellite phone; if someone had slid over a cliff there was no way to get help. Being the only team member with building experience, female and twenty years older than my German co-workers, I have clout and use it. I argue the pointlessness of visiting remote houses with the schedule so tight; data must be collected quickly to secure the Aid funding. The plan changes, we survey the accessible locations before the less accessible. Keeping to the villages along the road and main hill tracks we streamline the interviewing, spend less time walking between houses, and start to approach reasonable daily totals.

It is invariably hot and rains most days. We conduct the interviews wherever there is shade, under roof overhangs, inside broken houses. The people, patient and courteous, ask us for medical advice. The many health problems include goitre, lung cancer and TB. One father shows us his ailing six-year-old son. Hard, broad lumps swell from his shoulder, chest, upper arm and thigh. Later a friend who is a doctor says it is probably tuberculosis of the bone. There is limited access to medical help and most villagers cannot afford it. The free clinic, an hour away, costs a mini-bus or motorbike fare. We visit a house where twin baby boys lay panting, spreadeagled on a wooden platform. They have high fever and are dehydrating, one has a huge abscess behind his ear. I return with rehydration salts and explain how to use them. I visit again, only one baby is on the platform. Seeing the look on my face the mother smiles and points to the other baby, asleep in a sarong suspended from the ceiling. I organise Victor to take her and her sons to the clinic in our minibus. Each time we visit I expect one to have died.

The villagers live simply on rice and cassava. If they don't own enough land to farm fruit or vegetables they have to buy or trade, or go without. Families may earn only a few dollars a month from the sale of rice, a goat or a pig. The children often have skin diseases. It is hard for us to eat our lunch, probably more than they would eat in a day, with a small crowd watching. We eat in empty churches or abandoned houses. We pay the young woman we lodge with to cook. She wraps boiled rice portions in waxed brown paper, and our driver brings them, hot, at midday. We have a spoonful of tinned fish each. Over time green vegetables and fruit are added. Dinner also progresses from Pop Mie (instant noodles) to simple home cooked meals. I discover that when you are tired and thirsty, warm beer is ambrosia. When we find a shop in Helezalulu with a fridge, things really look up.

It is a humbling experience to sit with a ragged family, in a house roughly rebuilt from the broken pieces of their previous home, listening to their story of poverty and destruction. I hate having to repeat the disclaimer that unless the project funding is signed off, there can be no guarantees. The days roll over. The villagers are cooperative, interested in us. I ask if I can take photographs and show the results on the digital screen. The children love it and clamour for more. The adults are shyly pleased. One older man stares, puzzled, at the image. He asks, How did I get in there?

I can't work out why a white village dog has pink spots. I think it may be mange, but a closer look shows the coat is healthy. I ask Victor, he responds with his irrepressible grin and shrugs. I see two white chickens with bright pink feathers. Walking from a house I hear children giggling and turn to see the red-toothed laugh of the man who has just hit his target with a deft stream of betel juice. A pink and white rooster shakes indignant feathers. The narcotic betel nut, or siri is common in Nias. The nut is stripped of its outer skin by fingernail or tooth, and wrapped in a green leaf with a small lump of powdered limestone. Maria tells me young people don't chew siri, there is a certain age deemed acceptable. Will you eat siri when you are older? I ask her. Yes, she says, we think it is good for the teeth. I see the mouths of siri users are not only stained bright red but their teeth are wearing away, blackened at the edges, the gums receding. My doctor friend tells me betel chewing causes mouth cancer.

Many householders are absent, most in the rice fields where they work through the day. Neighbours are happy to provide the data we need. On a stretch of road with few houses I ask some children for help. The oldest boy, who looks about fourteen, gives information about the owners. He tells us the wife died some years previously, the adult children have left. Often family members go 'overseas', to Sumatra or elsewhere in Indonesia to find work. I ask where the owner of the house is now, is he overseas? The boy shakes his head and points mutely. The owner, killed when his house collapsed, is buried in long grass not two metres from where I am standing.

It is the fourth week. I've had a day off, sick. Maria and I decide to finish the last of the accessible houses along the main road. We clamber up a steep bank to check some ruins. Three young girls follow us everywhere. I take their photos. They giggle shyly and pose, hold an index finger up to their cheek, smile coyly like 1920s silent movie starlets. I have a favourite photo of Victor and Basso modelling two of my hats, they camp it up, striking the same girly pose. They look just as beautiful as these young girls. The girls would love to be film stars. They know about film stars, the one village shop has a TV, kids crowd to watch it after school. They know that somewhere else there is another, more glamorous world, far less difficult than this one.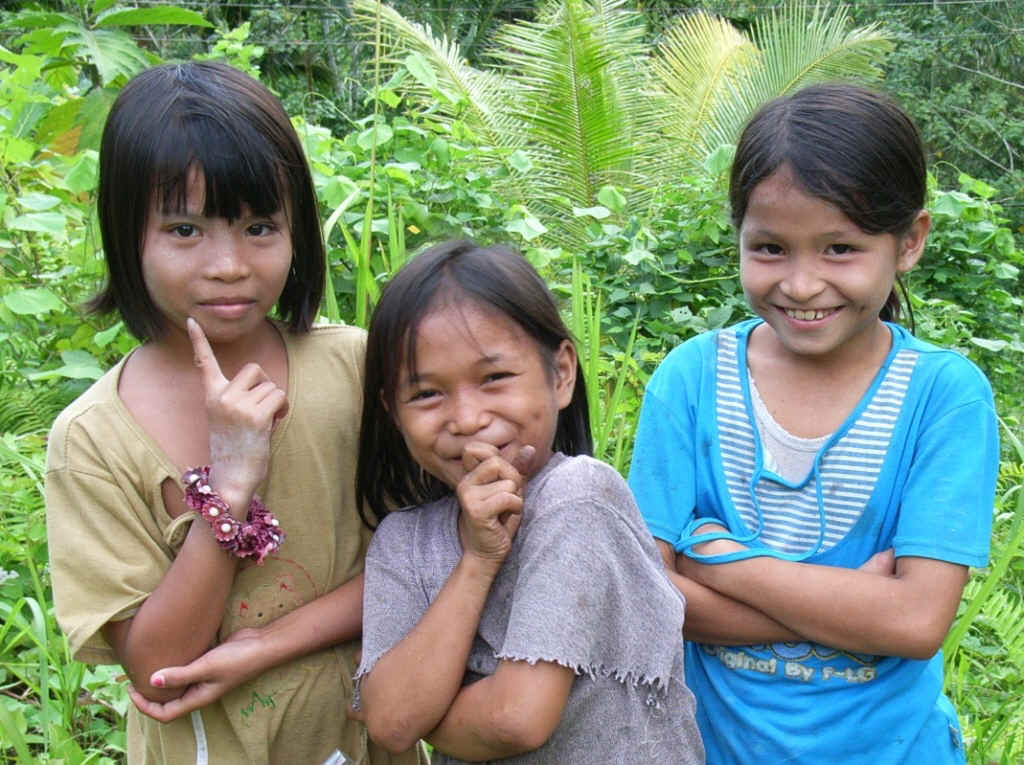 Three helpers, Uluidanoduo
Climbing back down the slope my feet slip on the red clay. Maria! I wail, I'm sliding! The three girls take hold of my arms, steady me. I am pathetic in their nimble footed environment. They are having fun but they are also enormously respectful. I am a foreigner, old enough to be a great grandmother and here to help. The respect works both ways.

The data collection continues for another month after I leave. Nearly fifty percent of the houses surveyed are unliveable, or totally destroyed. On that basis the Aid funding comes through, and the HELP reconstruction project begins.


August 2006. My new job is with the United Nations High Commission for Refugees (UNHCR) which is importing timber for Nias housing rehabilitation and reconstruction. My reporting officer role expands to community liaison. I also inspect the timber we distribute, making sure the fourteen agencies we work with have proper storage, acceptable construction standards, and adequate record keeping. I visit sites all over the island. It is a great job.

Travel is by four-wheel-drive, with a driver, or by boat. I spend a lot of time in boats, mostly the small turquoise and red outrigger canoes which fit a line of four people like peas in a pod. It is a superb mode of travel, offering sea-level views of beautiful Nias. Silver flying fish sometimes dart like swallows over the bow. Travel in larger fishing boats offers more comfort, but embarking and disembarking is problematic. Shallow beach access means jumping into waist-high water, or deeper, to get off. Climbing back onboard, with no foothold on the boat's under-curve, is always an ungainly scramble. A hippopotamus invariably springs to mind.

My final site inspection on Nias is to the northern tip of the island. A two hour drive, including thirty minutes zooming along a beach under massing cumulo-nimbus clouds, brings us to a wide river mouth. We are ferried in a fishing boat across to the village of Muzoi, where HELP has nearly finished building twenty four replacement houses. The standard of work is excellent. Rain sets in.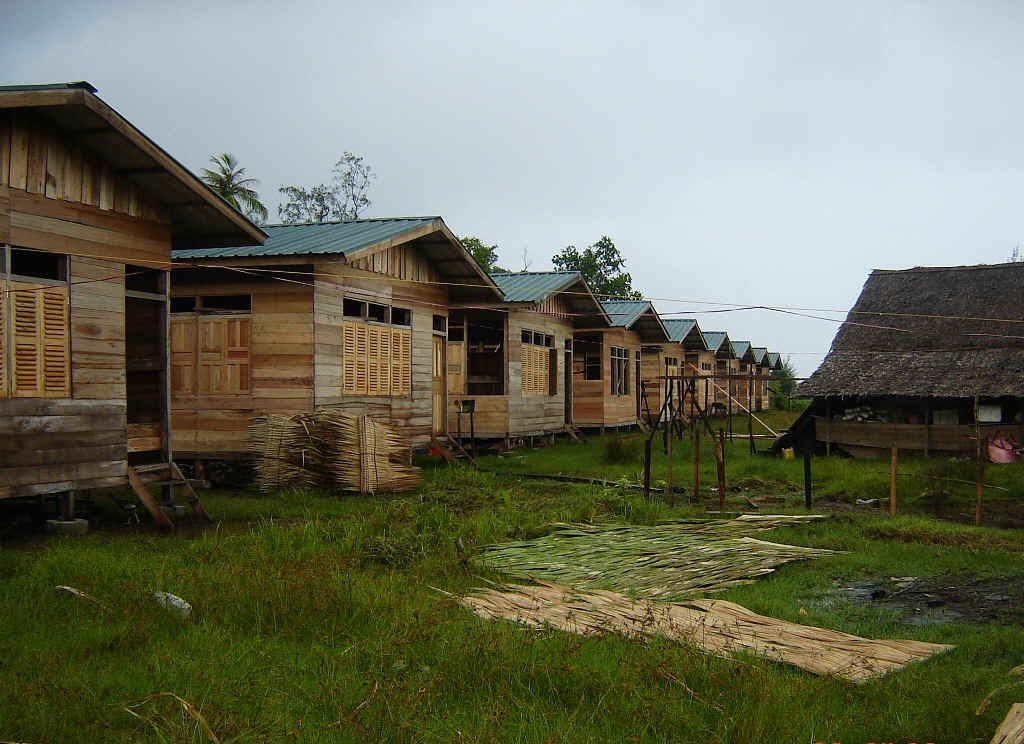 New HELP houses, Muzoi
Inspection completed we travel by boat thirty minutes upriver to Wani, a village only recently established. A Christian group has left the predominantly Muslim parent community, settling in a godforsaken bog, where jungle grows back as quickly as it is slashed. The ground is peat-custard. To show us its depth a villager pushes a three metre pole into the earth, like a needle into butter. Axel tells me this is the poorest village he has seen, and although the inhabitants were offered an alternative site, they elected to stay. Five of the proposed twenty-two new houses are already under construction. Lutz, HELP's gung-ho young engineer, has designed circular concrete pads, weighing 60kg each to prevent the house stumps sinking. Prefabricated, these travel with us in the boats.

At dusk we leave this village in the smallest canoes yet, flimsy pea-pods with small outboard motors. The rain-swollen river churns liquid mud and we have a long trip upstream to where we will be picked up. I share my canoe with my field assistants, Hendri and Kasih, and the boatman. Our weight sinks the canoe to its gunwales. There are no outriggers for balance and the slightest easing of a buttock ships water from the eager river. For two hours we sit rigid. Still the canoe fills. Slowly, carefully, I start to bail by hand, one step up from using a sieve. The boatman, apparently less concerned, eventually hands me a small plastic soup bowl. I begin to make headway.

The river is awash with uprooted trees. Others, fallen from the sheer clay banks, reach treacherously across our way. There is no way of telling what else lurks below the surface turbulence. The last hour is travelled in darkness. The boatman, weaving an instinctive route, occasionally holds a plastic Dolphin torch over my head to scan the black river. The rest is nerves, faith and luck.

There is no sign of habitation along the way. Fireflies are the only diversion. Finally we see village lights, and moor alongside a half-drowned wharf. The slide of muddy ground beneath my feet is, for once, a relief.